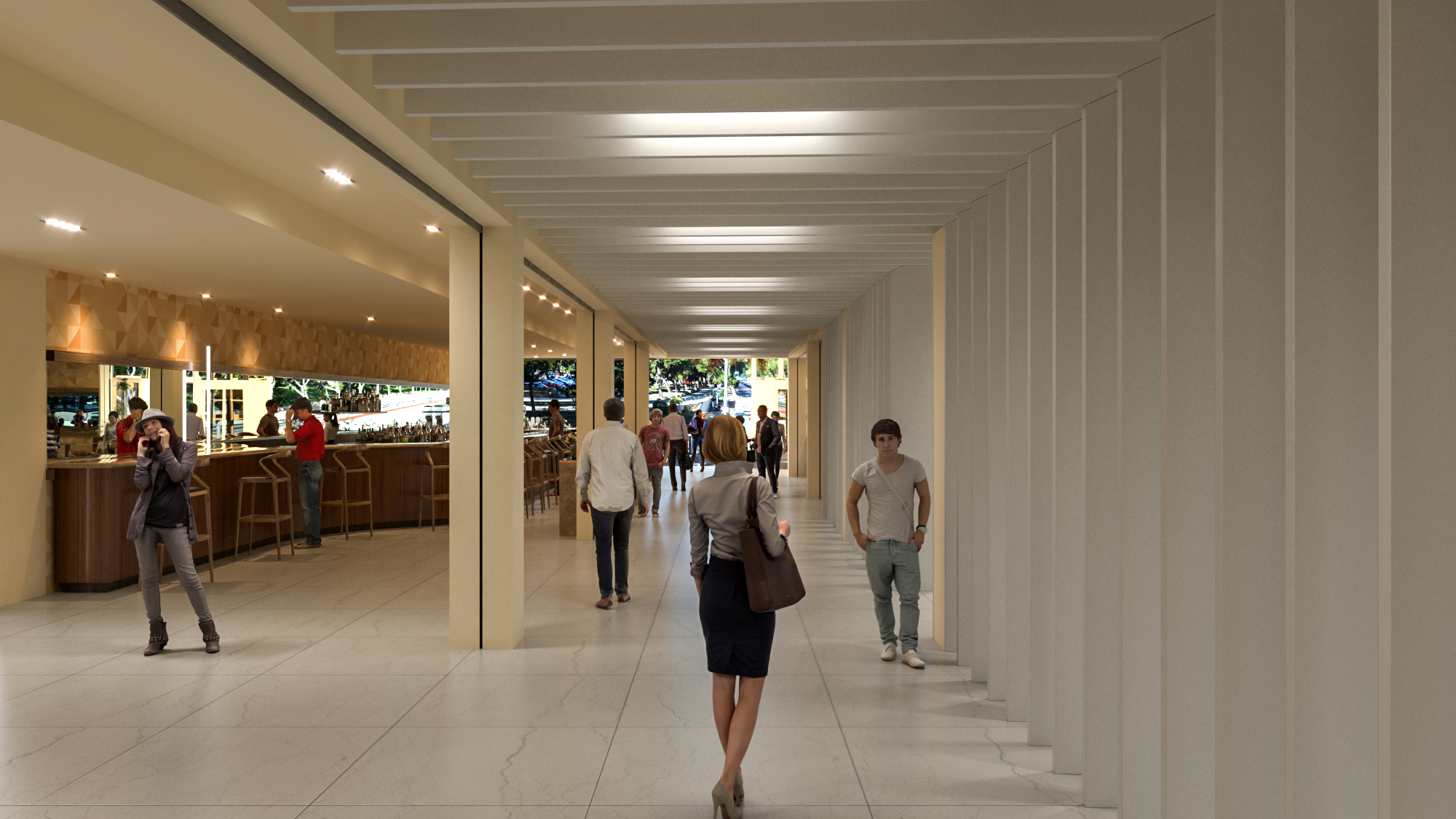 New subway concept to connect Floriana's Bombi bus stops
Infrastructure Malta is planning a new subway with improved facilities to replace the old pedestrian underpass connecting four of the most important bus stops of Malta's public transport network at the Portes des Bombes area of Floriana.
The proposed plans for this project will introduce in Malta a safer and more comfortable concept for this kind of pedestrian infrastructure. It will have a 12-metre wide, naturally-lit walkway, public toilets, an open space that can be used as a café for passengers who change buses in this area, as well as a bicycle parking area. The new subway will provide quicker, direct connections to the four bus stops in this area (Bombi 1, 2, 3 and 4), with pathways, stairs and elevators to be accessible to all.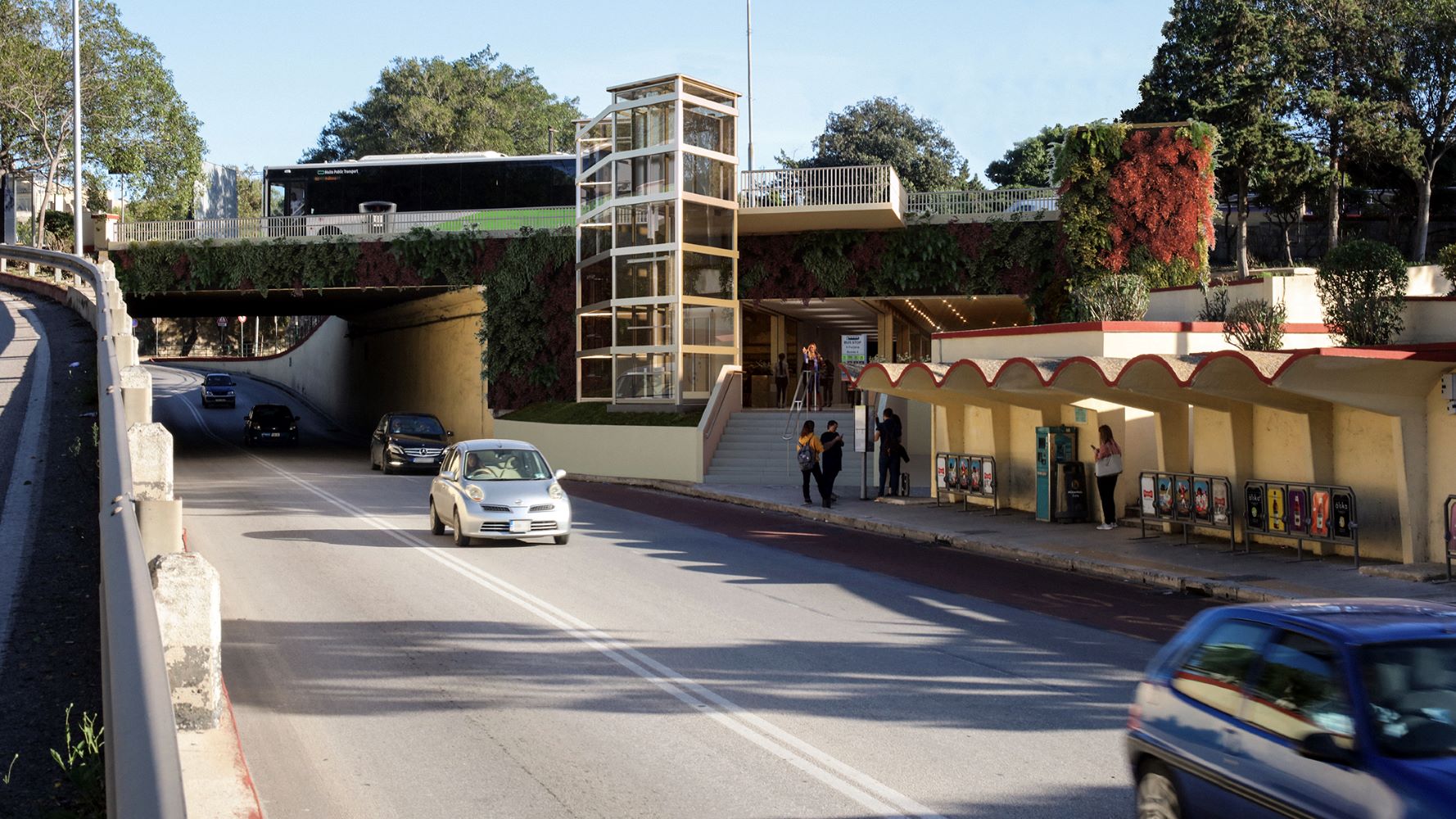 Infrastructure Malta's planning team designed the subway specifically to encourage more pedestrians and bus passengers to use this segregated crossing instead of attempting to cross the six-lane arterial road above, whilst making the existing road-level pedestrian connections accessible to all. This upgrade will eliminate the limitations of the existing links between the four bus stops, which include a narrow pedestrian underpass with long, steep ramps and blind corners, and uncovered stairways that are not suitable for persons with mobility difficulties.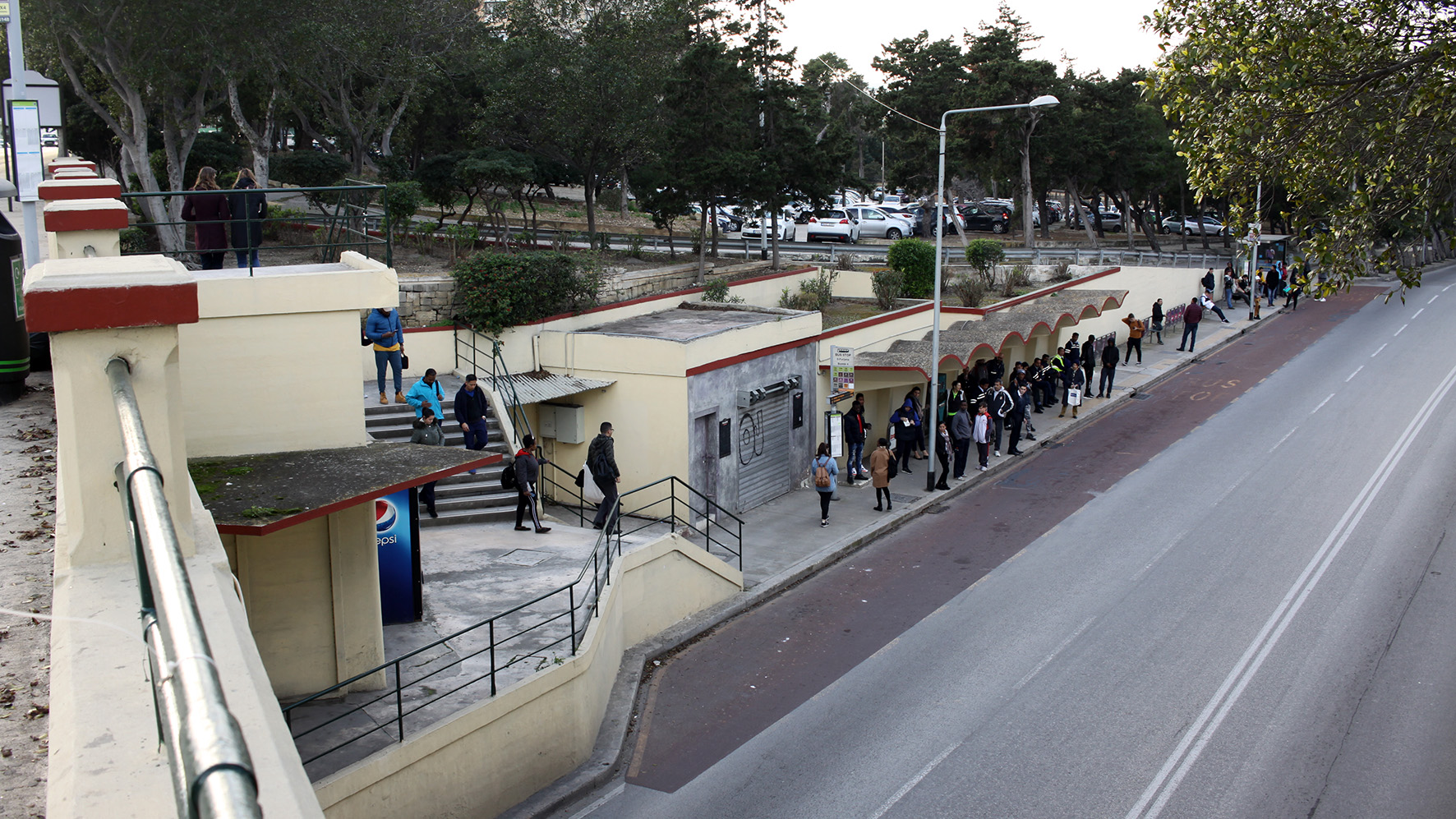 The new subway will not be in the same location as the existing one, which is a distance away from the bus stops, but will be right beneath two of them and next to the other two. In the proposed design, elevators and a short flight of stairs behind the newly installed bus shelters will connect the Bombi 3 westbound bus stop in Nazzjonali (National) Road to the subway beneath. At the other end, the subway will have a wide opening facing L-Indipendenza (Independence) Road, which connects the Sa Maison area of Msida with Nazzjonali Road and Sant'Anna (St Anne) Road through an underpass and four slip roads.
The northbound Bombi 4 bus stop in L-Indipendenza Road and the eastbound Bombi 2 bus stop in Nazzjonali Road will be connected to the subway through elevators and stairs as well. Bombi 1, the bus stop next to the eastbound L-Indipendenza Road slip road from Msida to Floriana, will be connected to the subway through the existing pedestrian crossing and footpath, which will be rebuilt and improved as part of the project.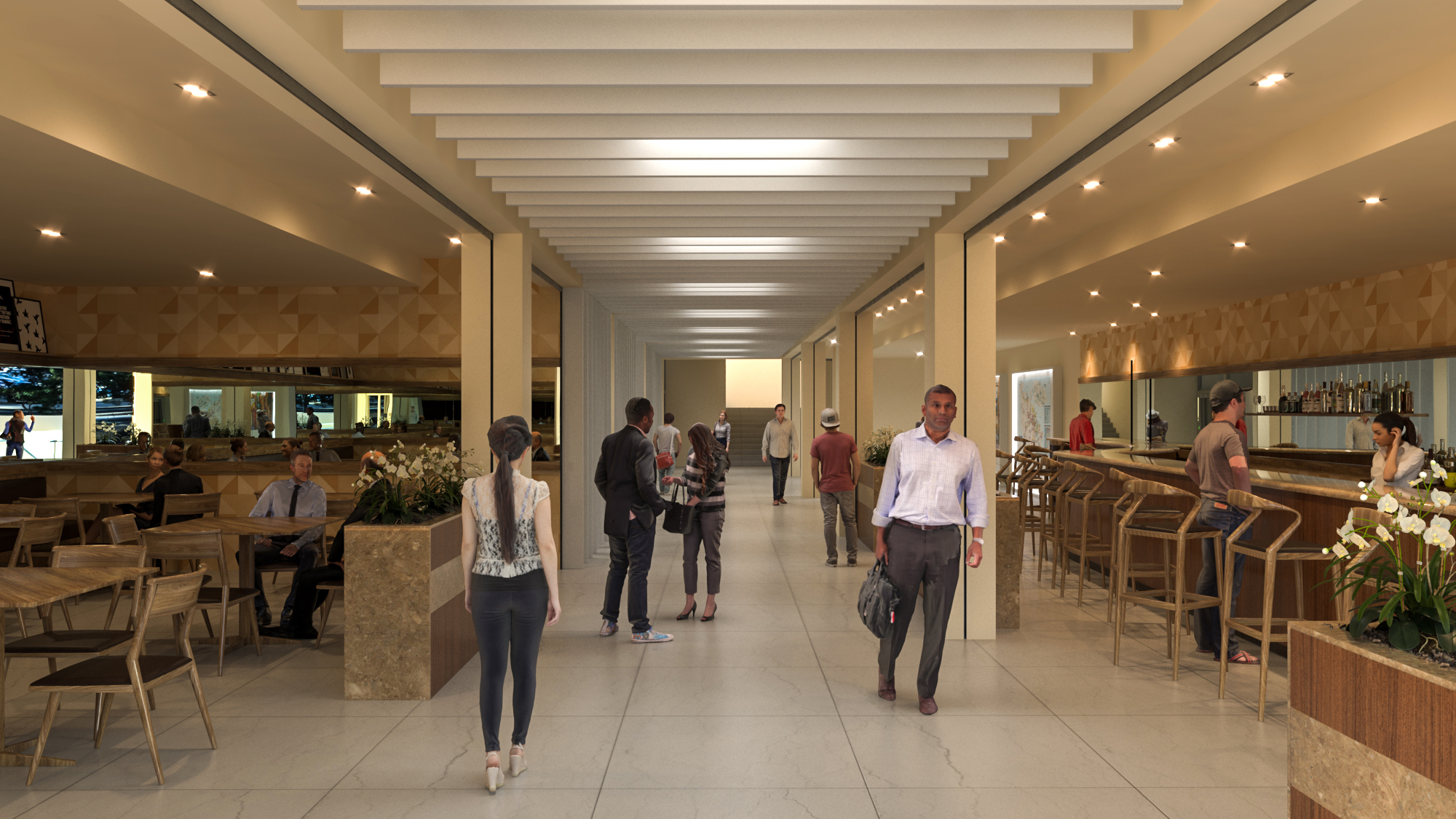 The proposed café incorporated in the subway's public space will provide improved catering facilities to hundreds of bus passengers who stop in this area during their daily commutes, as well as a convenient meeting point in this intersection between many bus routes.

The project will also include the installation of adequate night lighting in the subway and all footpaths leading to it, as well as CCTV systems for increased pedestrian safety. The iconic 1960s vaulted bus shelters in L-Independenza Road (Bombi 4), one of the earliest examples of reinforced concrete structures of their kind in Malta, will be protected and incorporated as part of the project.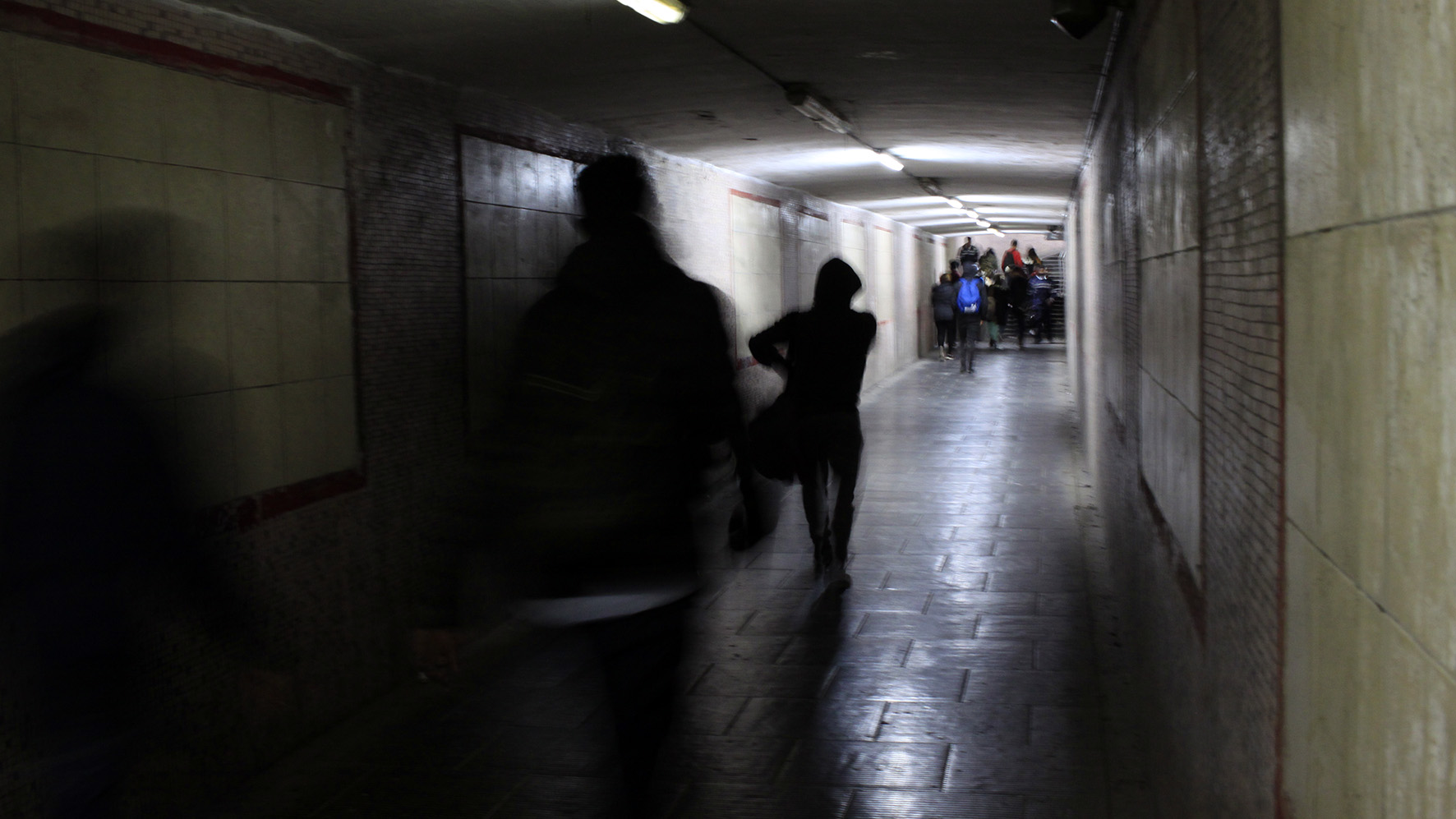 Infrastructure Malta has recently submitted the proposed subway plans to the Planning Authority so that they can be published for public consultation in the coming weeks. The agency is now meeting several entities and authorities, including local councils of nearby localities and other stakeholders, to finalise plans and continue the applicable develop permitting process. A public call for offers for the required construction services will be issued in the coming months.
This new infrastructure forms part of Infrastructure Malta's commitment to create safer facilities that encourage increased use of alternative, more sustainable modes of travel. A short distance away from the Portes des Bombes area, Infrastructure Malta is currently building a pedestrian overpass to improve the connections between another five bus stops (Blata l-Bajda 1, 2, 3, 4 and 5), the Floriana Park and Ride and several nearby residential and commercial areas in Blata l-Bajda and Hamrun.
Another pedestrian and cycling overpass is under construction in L-Avjazzjoni (Aviation) Avenue, between Gudja and Luqa, providing safer links between these localities, the Malta International Airport and the Institute of Tourism Studies. Another overpass will soon be built in Dom Mintoff Road, to create a safer pedestrian and cycling route between the Malta College of Arts, Science and Technology (MCAST)'s main campus, the residential and industrial zones of Corradino and the centre of Paola.
Infrastructure Malta will soon also complete the reconstruction of Hal Qormi Road, which includes a new segregated cycle track connecting Luqa and Hal Farrug. This will be the second segregated cycle track of its kind in Malta, following the opening of an identical one between Zabbar and Zejtun, along L-Ahhar Hbit mit-Torok Road (known as Tac-Cawsli) in 2019. Another two cycle lanes were built along Il-Buqana Road, between Mtarfa and Mosta, and in Hal Luqa Road, in Santa Lucija. Through the ongoing Central Link Project, Infrastructure Malta will build the longest segregated cycle track in Malta, extending over four kilometres between Mriehel, Birkirkara, Balzan, Attard and Ta' Qali. This project also includes the construction of over ten kilometres of new footpaths and several new bus lay-bys with increased safety for passengers.