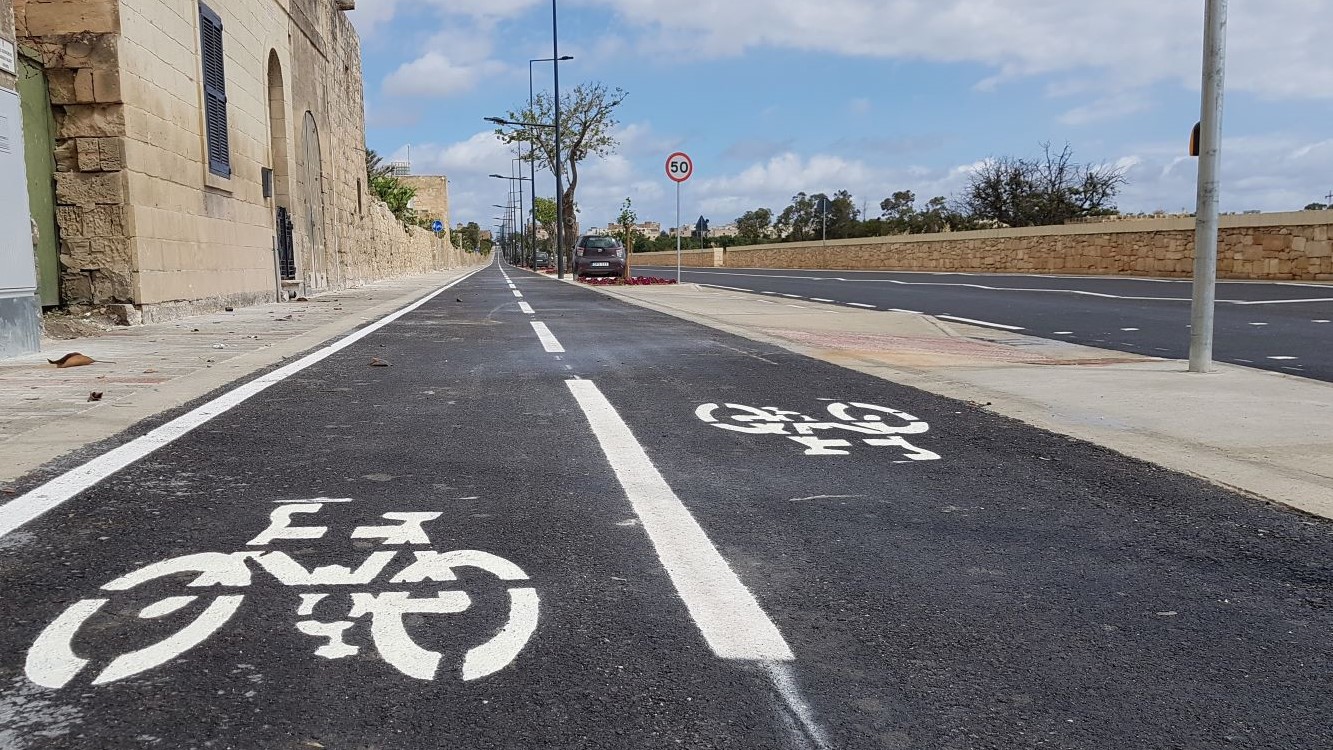 Encouraging modal shift
Through its infrastructural projects, Infrastructure Malta aims to make Malta's transport infrastructure more sustainable for future generations by introducing safer facilities for cleaner modes of travel.
Several ongoing and upcoming investments are specifically targeted at creating new infrastructure for alternative modes of travel. The agency also includes many new facilities encouraging modal shift as part of arterial road upgrade and reconstruction projects.
Pedestrian and cycling bridges
In 2019, Infrastructure Malta is building a new overpass at Blata l-Bajda, for easier pedestrian and cycling access between Hamrun, Blata l-Bajda, the Menqa area of Marsa, the Park and Ride at Floriana and the sea passenger terminals at the Grand Harbour. This structure will also serve as a quicker connection between the northbound and southbound Blata l-Bajda bus lay bys in the same area, to help bus passengers get from one to another and continue their commute in less time.
The agency is also developing a similar pedestrian and cycling overpass at Aviation Avenue, to improve pedestrian and cycling connections between Luqa, Gudja, the Institute of Tourism Studies campus and the Airport.
Another footbridge is being planned for Dom Mintoff Road, to connect Corradino and the Malta College of Arts, Science and Technology with the centre of Paola. These three bridges at Blata l-Bajda, Gudja and Corradino will have gently sloping ramps so that cyclists would not need to dismount their bicycle to cross it. They will also have elevators to be accessible to all.
Other pedestrian overpass structures will be developed as part of the Marsa Junction Project, the Msida Creek Project and the Central Link Project.
Central Link Project
The Central Link Project, comprising the upgrading of the arterial road network between Mriehel and Ta' Qali, will drastically reduce air pollution in the surrounding residential areas and workplaces in Mriehel, Birkirkara, Balzan, Lija and Attard. It will also provide safer facilities for public transport passengers, over 10 kilometres of new footpaths, safer segregated pedestrian and cycling road crossings (underpass and overpass structures) and Malta's longest segregated cycle track.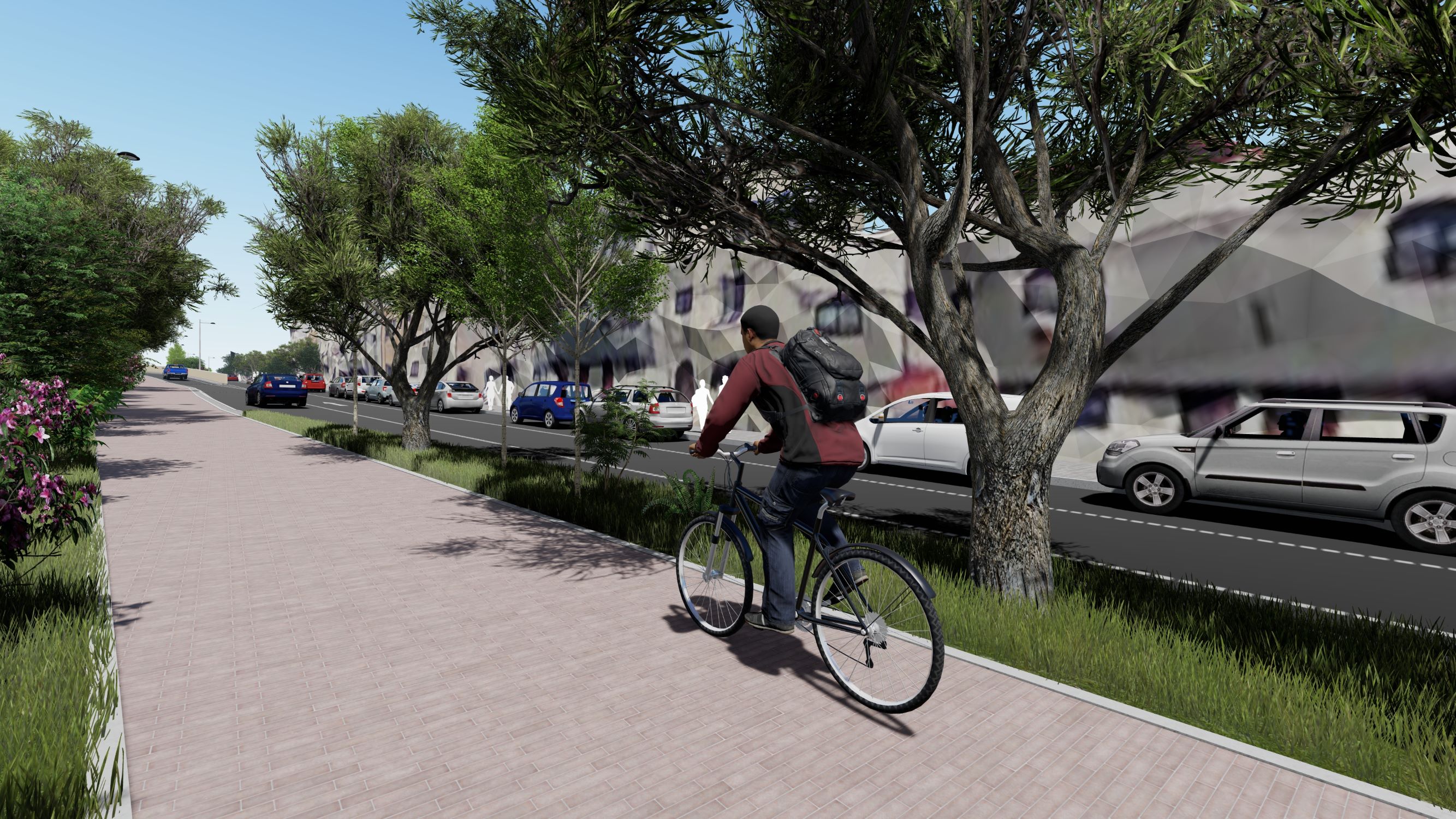 Marsa Junction Project
Likewise, the Marsa Junction Project is also providing safer spaces for pedestrians, cyclists and bus commuters, with bus lanes, a new park and ride facility, 3.5 kilometres of cycle lanes and footpaths, and pedestrian bridges. Through the new footpaths and bridges, for the first time, residents in Corradino and Paola will have a safe pedestrian route to the recreational areas of the Marsa Sports Grounds.
The project's cycle lanes will link with new cycle lanes being developed through the Santa Lucija Roundabout tunnels project and the ones built as part of the reconstruction of Luqa Road (Santa Lucija) project. This will create a safe cycle route connecting Luqa, Tarxien, Paola and Marsa.
Cycling infrastructure
Through ongoing and upcoming projects, the agency is adding some 12 kilometres of new cycle lanes in Malta in 2019 and 2020. Other cycling infrastructure, including shared priority lanes with sharrows, advance stop lines and roundabout cycle lanes in new road projects are also being gradually introduced.
At L-Aħħar Ħbit mit-Torok Road (known as Tac-Cawsli), between Zabbar and Zejtun, Infrastructure Malta rebuilt the three-lane road into a two-lane road and Malta's first segregated and asphalt-surfaced cycling track. It is also building another segregated cycling track at St Thomas Road and Qormi Road, the main route between Luqa and Qormi.
Construction of pavements and footpaths

Infrastructure Malta is upgrading many kilometres of footpaths in all localities, as part of its ongoing €700 million investment in the reconstruction of residential roads. In some of these streets, pavements are being built for the first time. Where technically possible, narrow pavements are being widened to meet the required accessibility standards.
Facilities for ferry passengers
In 2019, Infrastructure Malta completed safer ferry landing facilities at Marsamxett for ferry passengers travelling between Valletta and Sliema. Its contractors are now building another two terminals with landing facilities and sheltered waiting areas accessible to all, at Bormla and Sliema.