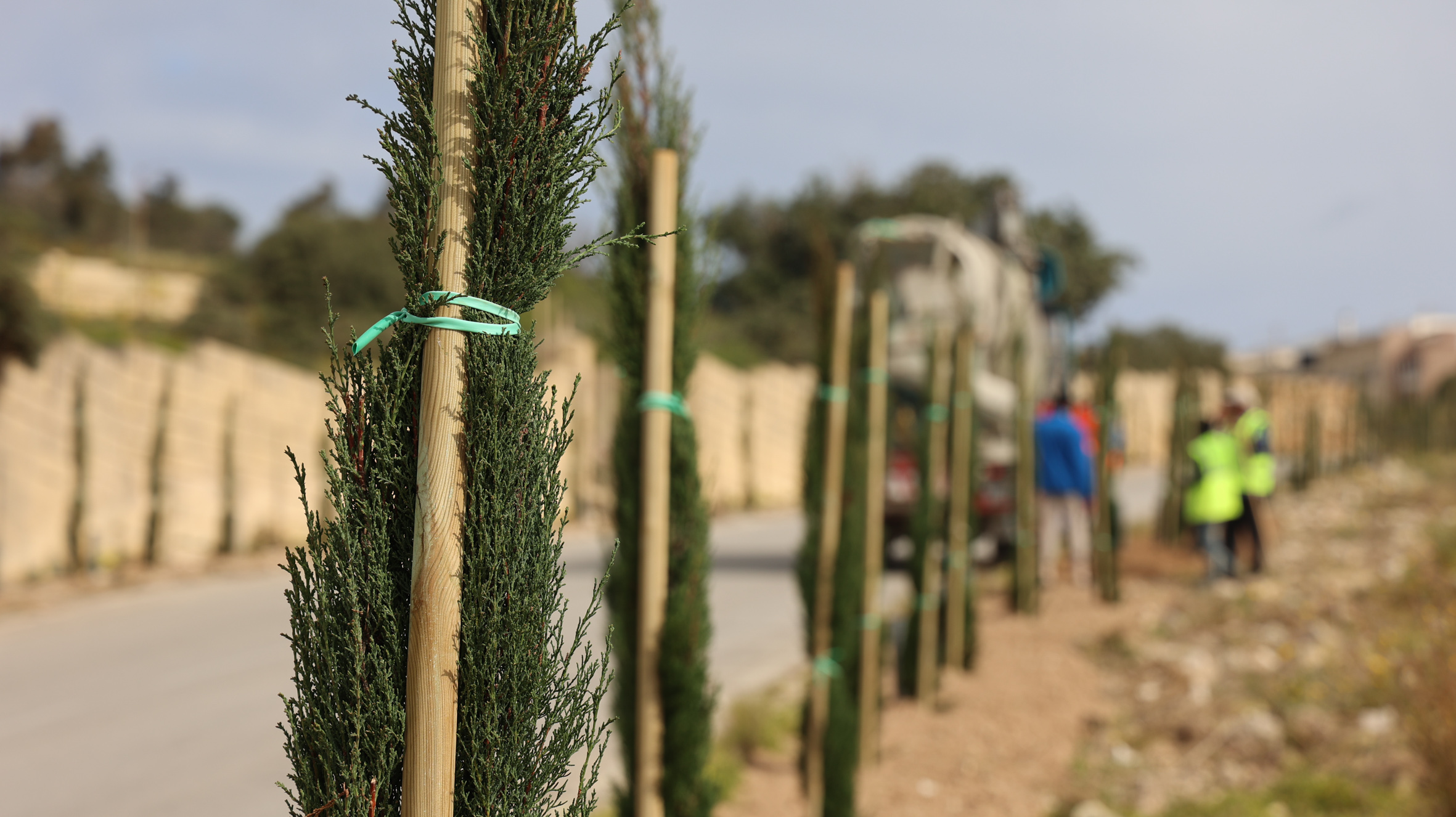 Infrastructure Malta planting 9908 trees in three months
Infrastructure Malta is planting 9,908 new trees in different localities in Malta during the first three months of 2021.
The agency has already reached 88% of the total of 11,213 trees it planted in 93 different locations in 2020. During the first three months of this year it is planting circa 110 trees a day, almost four times more than the average of 30 trees a day in 2020.
Since it started its nationwide tree-planting programme in summer 2019, Infrastructure Malta added 29,840 trees and 19,654 shrubs in Malta. This effort will continue in coming months with many other urban and rural locations earmarked for the planting of thousands of new trees and shrubs.
Infrastructure Malta confirmed these figures during a visit to the Tas-Salib area of Rabat, where this week it is planting over 220 tall cypress trees along the sides of a rural road between Rabat and Bingemma, in Mgarr. The cypress trees, each over two metres high, will be embellishing this picturesque rural area next to the 16th century chapel dedicated to the Nativity of the Virgin Mary, popularly known as Tas-Salib Chapel. To improve the growing conditions of these trees, Infrastructure Malta is adding a strip of soil along the sides of the road. In parts of the road it will also be laying a low kerb to separate and protect the new trees from passing vehicles.
This month, the agency is also concluding the landscaping and tree planting works of the new green areas around the Marsa Junction Project flyovers, in Marsa and Paola. Infrastructure Malta is planting 7,770 trees in this area, including Aleppo pines, holm oaks, lentisks, cypresses, olive trees, judas trees and carob trees. Around them, it is also adding 10,495 shrubs and hedges, such as rosemary, oleander and olive-leaved germander.
Under the guidance of arborists and other environmental experts and authorities, the agency's contractors will continue watering and taking care of these trees for several years, until they confirm that they are established in their new environment. If any of the trees are damaged or stolen, or if they do not survive, Infrastructure Malta will replace them. In fact, since 2020 it replaced 1,041 trees that were stolen from 14 different locations soon after they were planted.
Through the Marsa Junction Project, the agency's contractors installed circa two kilometres of underground irrigation pipes and built three new large underground rainwater reservoirs to water the new trees and shrubs. Infrastructure Malta is building similar reservoirs and irrigation networks in Attard, Balzan, Birkirkara and Mriehel, where many more new trees are being planted as part of the Central Link Project.