First solar footpath in Malta
Infrastructure Malta is installing Malta's first solar footpath along part of Rabat's new Gheriexem Road promenade, in a pilot project set to power 40% of this road's lighting with renewable energy.
The €70,000 pilot project is utilising an innovative solar pavements technology that is being introduced in several other countries. It is the first step towards the development of more photovoltaic footpaths and cycle lanes in the future. Infrastructure Malta will monitor data from this project to determine the sustainability of installing similar systems in other footpaths, cycle lanes and public open spaces. Such photovoltaic systems can feed renewable energy into the national grid. They can also be connected to batteries to directly energise off-grid street lighting, pedestrian crossings, charging points for electric cars and e-bikes, USB charging points, security cameras, Wi-Fi hotspots, and other road technologies.
The 40-square-metre solar footpath of the Gheriexem promenade will include 36 photovoltaic panels that can generate more than 4,600 kWh of electricity every year, saving 21 tonnes of carbon dioxide emissions. The grid-connected system will provide enough electricity to power 40% of Gheriexem Road's lighting, including the decorative lights that will illuminate the promenade's footpaths.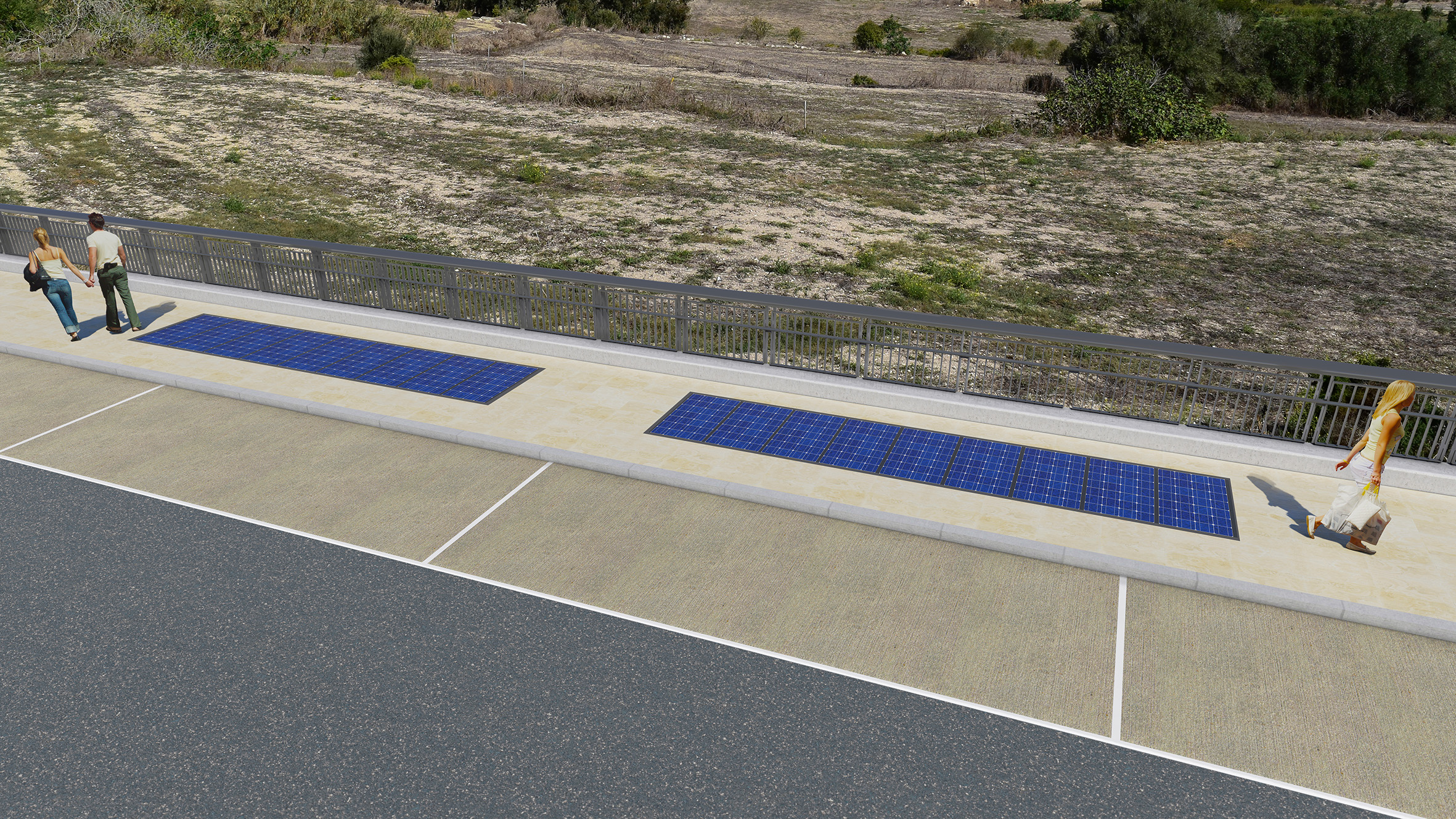 Infrastructure Malta is adopting an innovative system of photovoltaic panels comprising very thin (few millimetres) photovoltaic cells that are embedded in the footpath and covered with a layer of transparent heavy-duty resins and polymers that can withstand pedestrian, cycling and light vehicle traffic, whilst providing the same level of skid-resistance as any other concrete or paved surface.
A digital display next to the solar footpath will give the public live updates of daily generation figures and corresponding carbon dioxide emission savings. Infrastructure Malta is planning to complete this pilot project later this year, in parallel with the ongoing €4 million project to rebuild the Gheriexem Road with a new promenade for safer pedestrian connections between Rabat and Mtarfa.
Launched last summer, the Gheriexem Belvedere Project includes the reconstruction of the scenic Gheriexem Road on stronger foundations, to stop decades of subsidence damage to its structure and to nearby buildings. The new promenade along this road will include footpaths, benches overlooking the Gheriexem Valley and landscaped areas with new trees and shrubs.
For many years, residents in this area have been calling on the authorities to stop the gradual sinking of this road along the side of Gheriexem Valley, which is causing extensive damages to their residences, some of which are in danger of collapsing.
During the last few months, the project contractors completed most of the new retaining structure of this 800-metre road. To build the new footings of the road and the promenade, Infrastructure Malta embedded over 100 steel-reinforced concrete piles 15 metres (5 storeys) into the ground and bridged them together with a long concrete capping beam. On top of this platform, workers placed some 6,000 large limestone blocks and poured tonnes of concrete to form a thick retaining wall abutting the weak rubble wall built on clay which supported the existing road until it started to give way in recent years.
Workers are now drilling cores for another row of 270 piles along the other side of the road, which is lined with residences and other buildings. These piles will continue to stabilise the road structure and nearby buildings, whilst enabling Infrastructure Malta to safely dig trenches to lay new underground networks providing water, sewage and telecommunication services in the same area.
The plans of this project were prepared by the Ministry for Transport, Infrastructure and Capital Projects' Works and Infrastructure Department, in consultation with the environmental and archaeological authorities to minimise adverse impacts on adjacent fields and to conserve the area's archaeology.