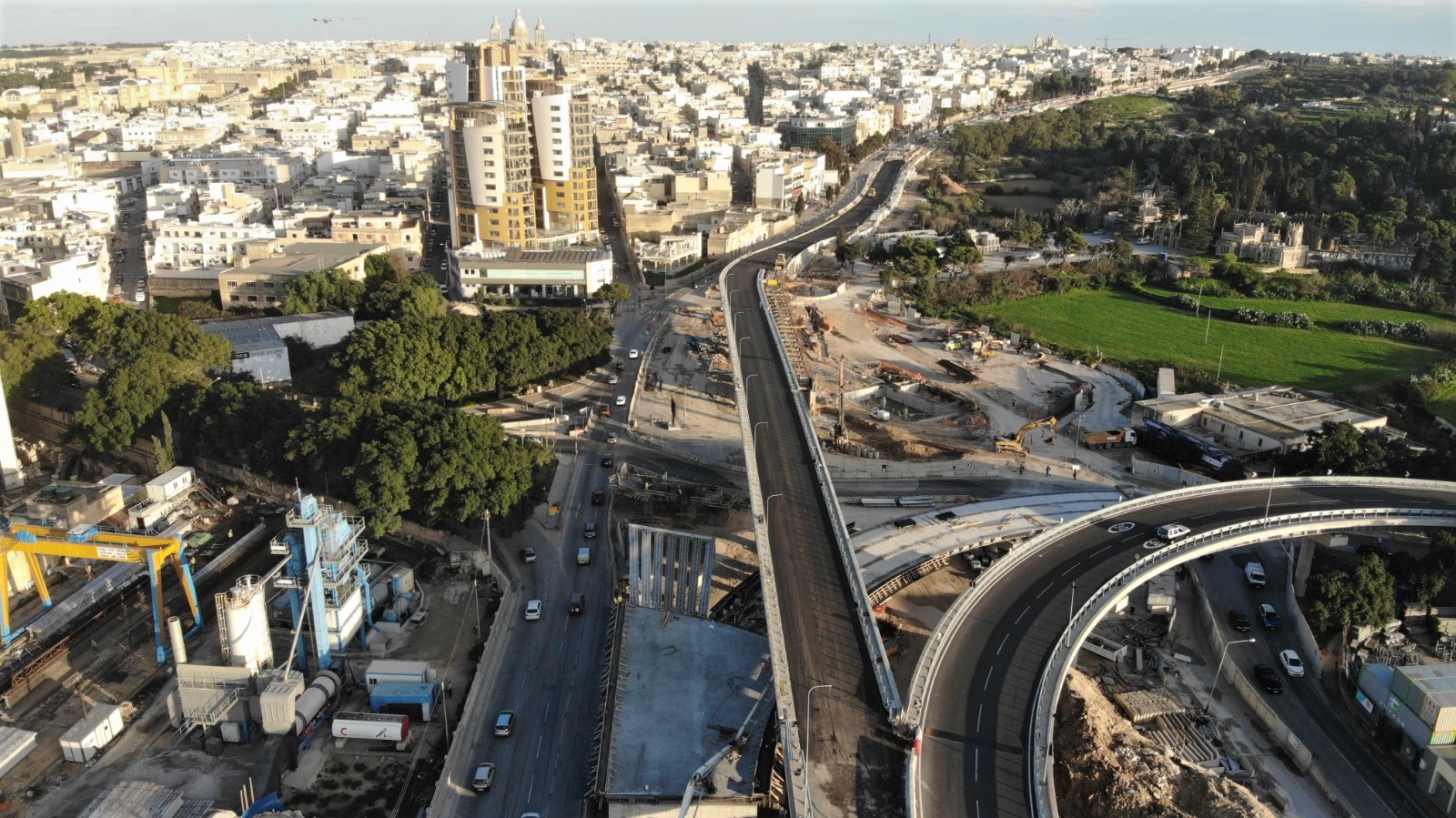 Third Marsa Junction flyover opens this week
Infrastructure Malta is opening the third new flyover of the Marsa Junction Project and eliminating the existing Addolorata traffic lights in the same area by the end of this week.
Following the opening of the first two flyover structures in September, the implementation of this EU-funded project continued advancing rapidly. The third flyover was originally scheduled to be completed by the end of January 2020. The other four flyovers of this project will be opened to road users by June of the same year.
As soon as the third flyover is open, Infrastructure Malta will also eliminate and dismantle the existing Addolorata traffic lights system. This new configuration will continue reducing travel times for over 100,000 road users who travel through this junction every day.
The third Marsa Junction Project flyover will create a new direct connection between Aldo Moro Road and Santa Lucija Avenue. Infrastructure Malta started laying asphalt over its two-lane deck last week. Weather permitting, final works required to open it to road users will be ready this week.
The flyover will be temporarily opened in the southbound direction, from Marsa to Santa Lucija, so that the existing lanes of this route at ground level can be closed to make way for the construction of the other four flyovers. When these structures are ready as well, the third flyover will be used in the northbound direction, from Santa Lucija Avenue to Aldo Moro Road.
The new flyover's deck includes 65 concrete prestressed beams forming a 227-metre stretch of two-lane carriageway (twice the length of a football ground). At the Aldo Moro Road side, the flyover adjoins two of the four lanes of the first flyover, which is already in use. It rises to a height of 15.9 metres (over four and a half storeys) above another road at ground level.
The €70 million Marsa Junction Project includes the development of a new multi-level intersection to replace the Addolorata traffic lights system with 12 kilometres of uninterrupted lanes, grade-separated at three levels, creating direct northbound and southbound connections between the arterial roads merging at this network node. It is ending traffic lights waiting times along this principal route to southern Malta, whilst reducing congestion emissions in Marsa and other nearby localities.
The project also introduces new facilities for alternative modes of travel, such as footpaths and cycle paths, segregated pedestrian crossings, improved bus laybys, bus lanes, a park and ride area, new landscaped areas and other new infrastructure.

This investment is co-financed through the EU's Cohesion Fund and Connecting Europe Facility.