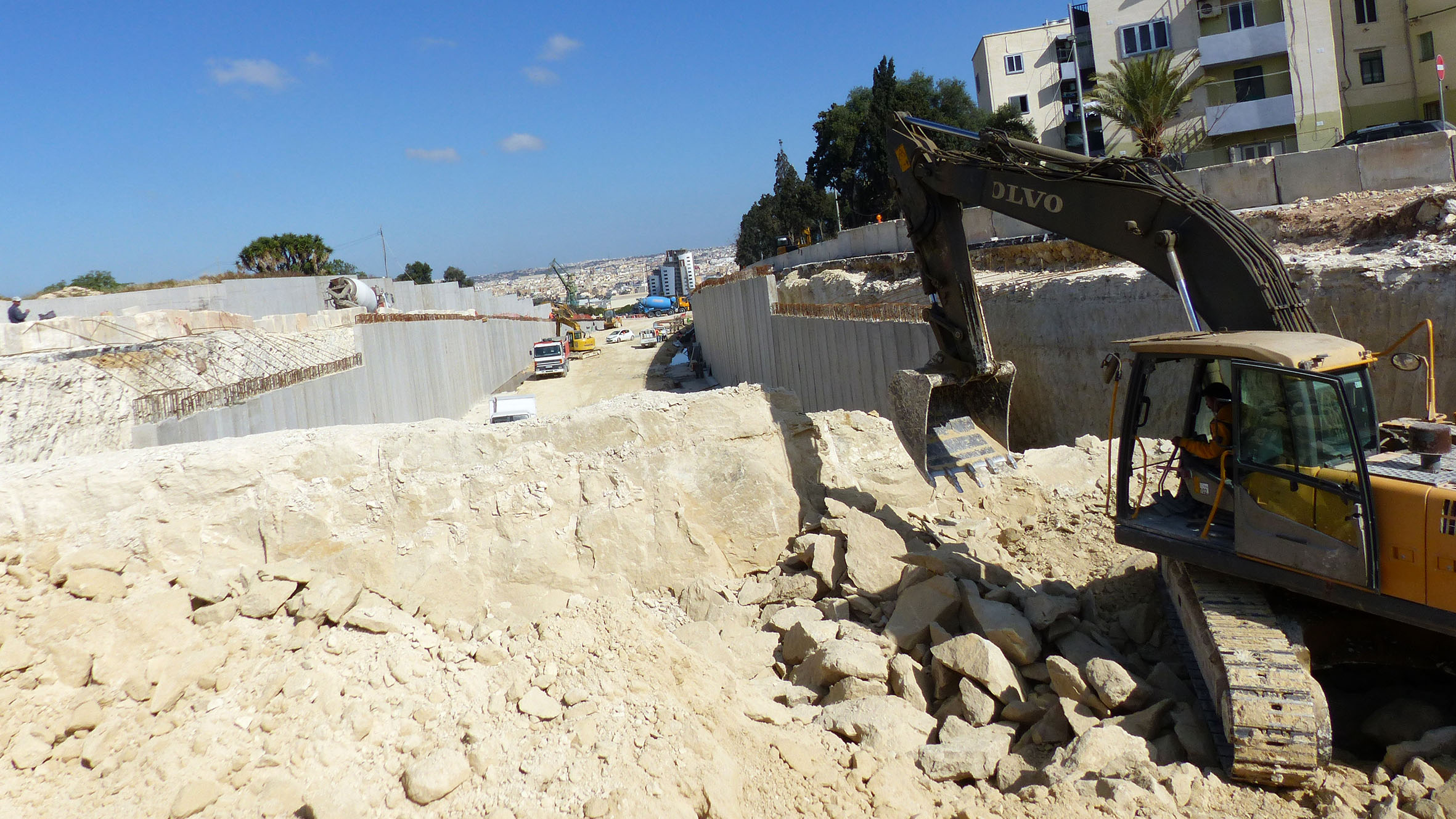 Santa Lucija Underpass Project reaches halfway mark
Infrastructure Malta reached the halfway mark of the €20 million Santa Lucija Roundabout Underpass Project as it intensifies works to keep its scheduled end-December completion date, despite the ongoing Covid-19 difficulties.
This project includes two cut-and-cover tunnels beneath the Santa Lucija roundabout, to directly connect Santa Lucija Avenue (Addolorata Hill) with Tal-Barrani Road. Above this underpass, the existing roundabout will be rebuilt in a new design that facilitates safer and quicker access to the residents of Santa Lucija, Paola and Tarxien. The project also includes the redesign and reconstruction of a nearby jogging track, the upgrading of the Tal-Barrani Road pedestrian subway to be also accessible to cyclists and to persons with disability, as well as a new shared pedestrian and cycling path connecting Santa Lucija to Marsa.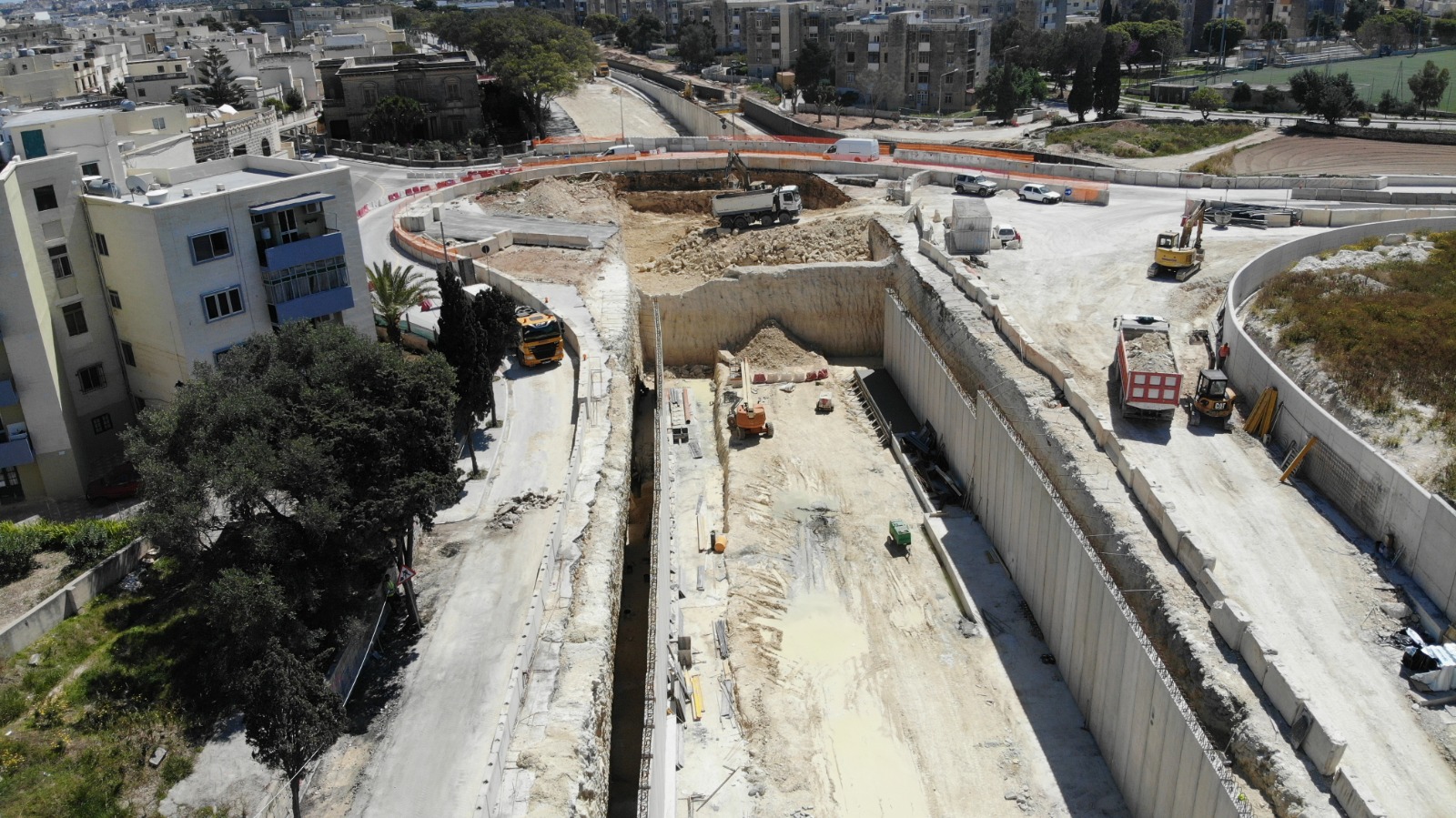 The twin-tube, four-lane underpass will extend 90 metres beneath the existing roundabout, to connect the two carriageways of Santa Lucija Avenue with Tal-Barrani Road. Two approach ramps will link the tunnels to the two roads. The new roundabout above the underpass will be connected to Santa Lucija Avenue and Tal-Barrani Road through four slip roads.
The excavation and formation of the 130-metre approach ramps to the tunnels on either side of the roundabout is nearing completion. Infrastructure Malta's contractors are now excavating the final section of this connection, beneath the roundabout. Most of the retaining walls of the approach ramps are ready as well. Infrastructure Malta is using 398 precast reinforced concrete panels to form these walls. The construction of the slip roads is in progress as well. In the coming months, the slip roads will be used as temporary diversion lanes, whilst the final part of the tunnel structure is being built.
During the last few months, workers also built a 1.1 km twin walk-through underground culvert, extend from Tal-Barrani Road, along Santa Lucija Avenue, to reach another similar underground tunnel network built beneath the new flyovers of the Marsa Junction Project. These tunnels will accommodate one of the country's principal 132kV high voltage electricity network connections.
Infrastructure Malta is also replacing a major underground potable water distribution pipeline in the same area. It is laying several kilometres of underground cable ducts for Internet, traffic management ICT systems and other telecommunication networks as well. New reservoirs and 2.7 kilometres of stormwater pipes are also in progress.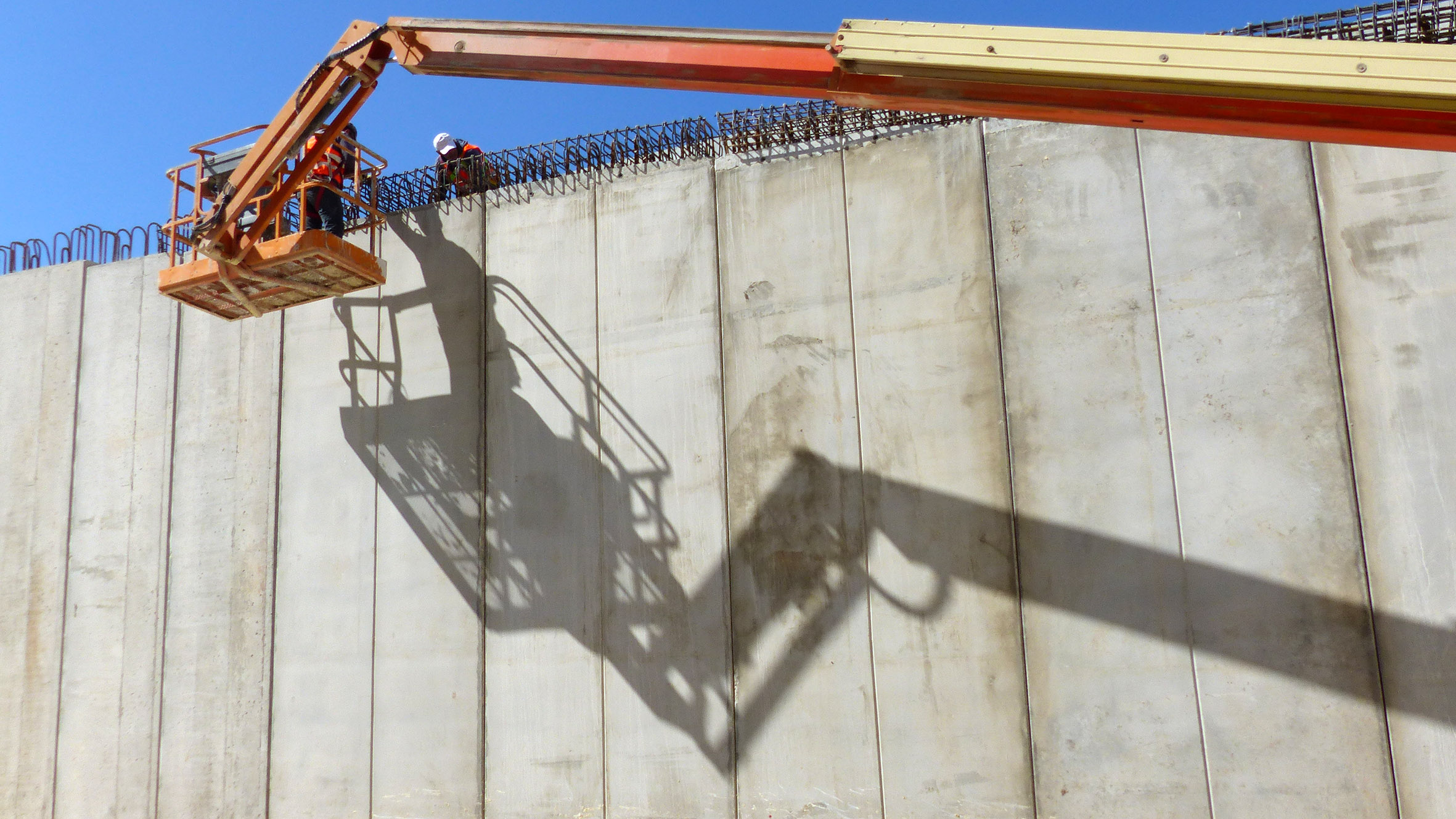 The existing Tal-Barrani Road pedestrian underpass (subway) connecting Tarxien and Santa Lucija will be rebuilt and upgraded with new ramps, to be accessible to all. The subway will also be directly linked to the reconstructed jogging track, so that it can be safely reached by Tarxien residents as well. The new jogging track is being built in consultation with the Santa Lucija Local Council.
The project's new shared pedestrian and cycling path, almost a kilometre long, will form part of a longer safe cycle route connecting Luqa, Santa Lucija, Tarxien, Paola, Marsa and Qormi. The first stretch of this bi-directional path was developed as part of the reconstruction of Hal Luqa Road, next to Santa Lucija's Garden of Serenity. Through the Santa Lucija tunnels project, Infrastructure Malta will extend it down the northbound carriageway of Santa Lucija Avenue, until it reaches Marsa, where other segregated cycling tracks and a cycling and pedestrian underpass are being developed through the Marsa Junction Project.
The project works in Santa Lucija Avenue are being planned in conjunction with the construction of the seven flyovers of the Marsa Junction Project, two of which will connect this road to Aldo Moro Road. All works are being implemented in phases, to minimise difficulties to road users, as well as to nearby residents, businesses and other workplaces.
As it did in all its work sites, a few weeks ago Infrastructure Malta instructed the Santa Lucija Underpass contractors to implement additional precautions to protect workers, their families and nearby communities from the spread of Covid-19. These measures are being implemented in consultation with the public health authorities. Amongst other precautions, road workers are keeping a safe distance from each other whilst on site and breaks in groups are not allowed. Meetings in enclosed areas, such as site offices, are being avoided, as the project teams are making increased use of alternative communication channels. All surfaces on site, including tools and machinery, are being cleaned more often.
As the pandemic measures decreased the number of commuters on the road, Infrastructure Malta is allocating additional resources and rescheduling implementation plans to bring forward works that require road closures and diversions. Thus, these interventions are being carried out during times of low transport demand, to minimise difficulties to road users. Besides diversions to expedite projects such as the Santa Lucija Roundabout Underpass, Infrastructure Malta is also scheduling major repair and maintenance works in several busy roads in other parts of the country, which would have been more difficult to carry out under normal circumstances.