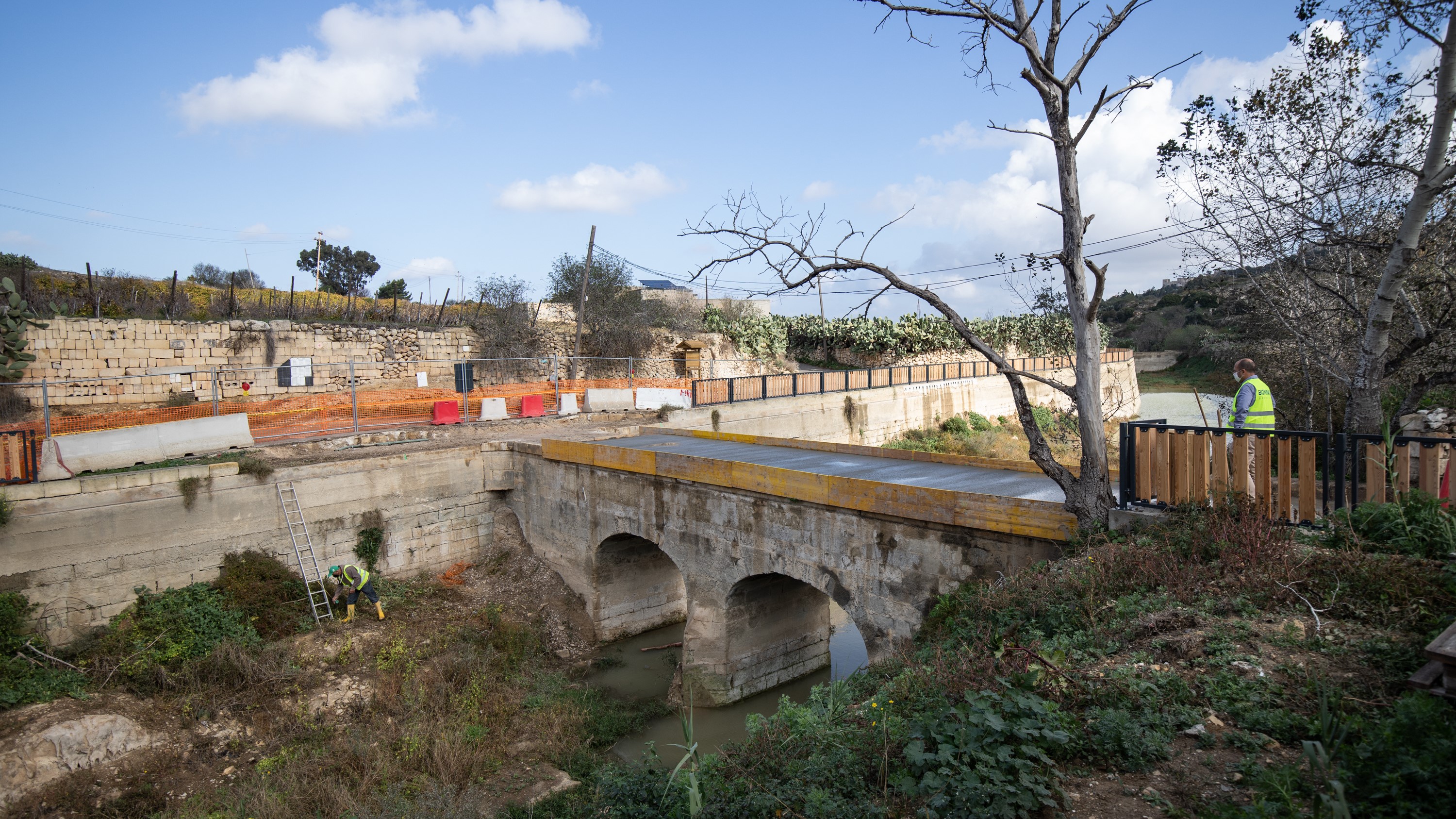 Rebuilding the Chadwick Lakes bridge deck
Infrastructure Malta is rebuilding part of the bridge crossing the Chadwick Lakes watercourse in the Ta' Slampa area of Rabat, to repair structural damages which have recently necessitated its closure.
This bridge connects the lane along the sides of the Chadwick Lakes watercourse, a popular location for family picnics and countryside walks, with Ta' Slampa Road, another rural road going up the hill to the centre of Mtarfa. This crossing consists of a twin-arch masonry bridge built in the late 19th century when the Chadwick Lakes were formed by the British engineer Sir Osbert Chadwick. In the 1980s, the bridge was widened by laying a separate precast concrete deck on top of its original structure, to facilitate safer access to farmers' heavy agricultural machinery.
Infrastructure Malta is replacing this 1980s bridge deck with a stronger, longer-lasting precast concrete structure. Workers started removing the damaged concrete slab earlier this month, taking several precautions to avoid damaging the surrounding natural environment. In the meantime, in a local concrete plant, the project contractors are casting the reinforced concrete elements that will form the new deck. They will soon transport them to the site to be lowered in place, above the older masonry structure.
Weather permitting, Infrastructure Malta is planning to finish this €150,000 upgrade and reopen the bridge by the end of the year. Works are being carried out in collaboration with the Energy and Water Agency, which is currently spearheading a €5 million two-year rehabilitation of this valley.
Infrastructure Malta is committed to continue improving the quality, efficiency, safety and sustainability of Malta's road infrastructure, including kilometres of rural roads that are crucial to the country's agricultural sector. Since its establishment in 2018, it has been implementing a nationwide multi-million investment in rural infrastructure, rebuilding over 233 countryside roads, repairing bridges and cleaning and reopening watercourses, amongst other projects. It is currently upgrading another 14 rural roads in several localities, with many more scheduled for next year.