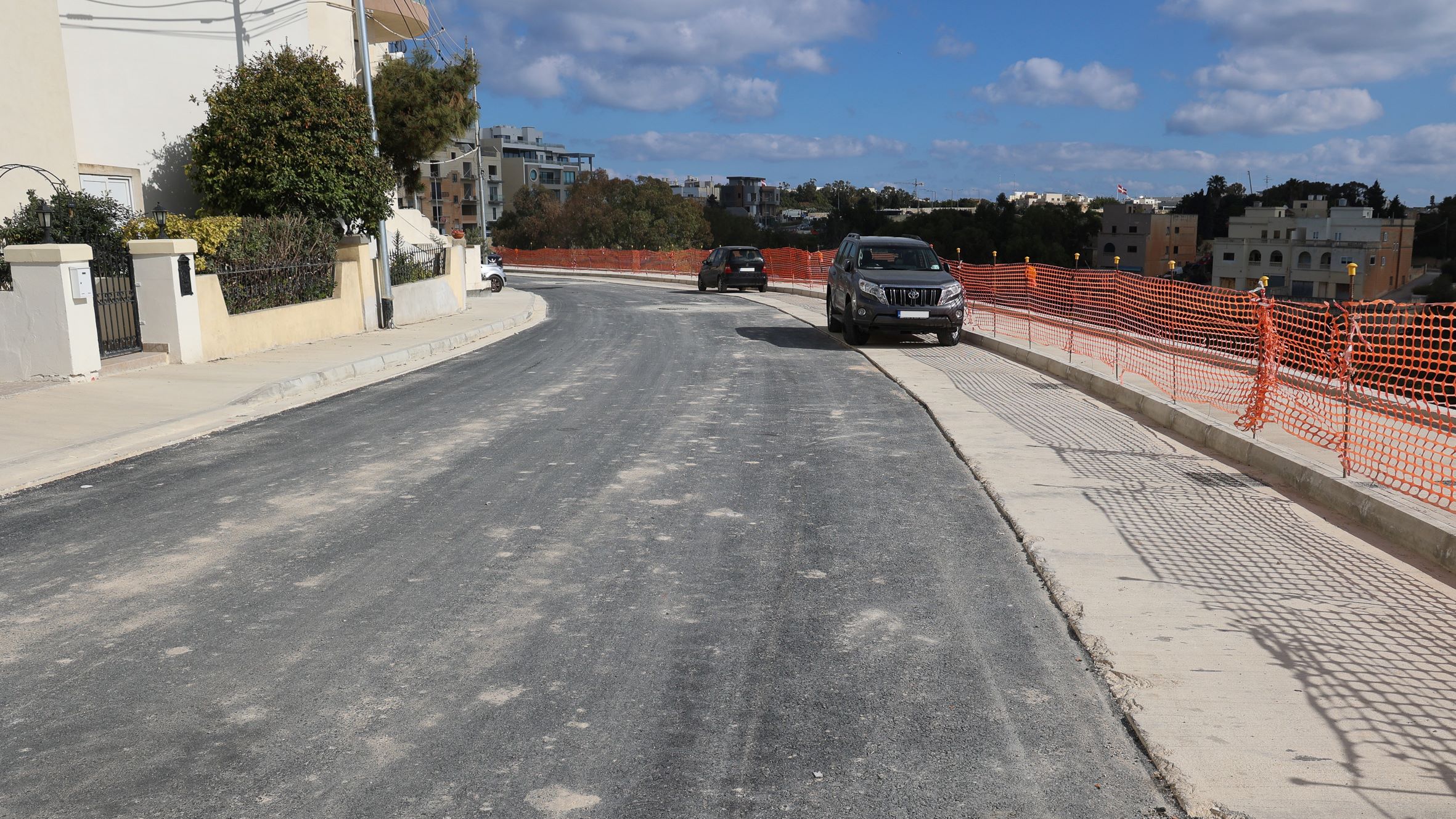 Rebuilding 3 streets a week in 2020
Infrastructure Malta rebuilt an average of three residential roads every week in 2020, providing a better environment outside the homes of thousands of families, whilst developing safer infrastructure for many other road users.
During a visit to ongoing works in Il-Forga (Forge) Street, in Naxxar, Infrastructure Malta announced that during the second year of its seven-year €700 million national plan for better quality residential roads, its contractors rebuilt a total of 155 streets. This adds up to more than 110 kilometres of reconstructed roads, in which the agency upgraded 215 kilometres of footpaths and laid some 370 kilometres of new underground networks, including water mains, sewers, stormwater culverts, electricity cables as well as Internet and other telecommunication cable ducts. To complete the reconstruction of these streets, workers used circa 352,000 tonnes of asphalt.
At any one time, Infrastructure Malta coordinates the reconstruction of over 50 streets in different localities. Il-Forga Street is one of the streets that the agency is rebuilding this month. A large section of this half-kilometre street along the border between Naxxar and Iklin had never been formed and built before. In recent months, the agency completed the first phase of this road's construction, erecting new retaining walls to support its structure and building new footpaths, before laying over 800 metres of new water and telecommunication networks. Workers also built a new stormwater system with new catchments and a 200-metre pipeline. The second phase of this road's construction will be ready in the coming months. All works will add up to an estimated total investment of €1 million.
Infrastructure Malta is rebuilding another 13 residential roads in the Tas-Sgħajtar area in Naxxar during the next months. Works in three of these streets, Korfu Street, Il-Libja Street and Il-Marokk Street started this week. The other ten roads are Ic-Cili Street, Cipru Street, Gibilta Street, Il-Brazil Street, Il-Germanja Street, Il-Mithna Street, It-Tuffieh Street, L-Argentina Street, L-Ingilterra Street and Spanja Street.
Infrastructure Malta was established in 2018 to implement the Government's nationwide plan for better quality, sustainable infrastructure. It has since invested unprecedented annual capital budgets exceeding €100 million in the upgrading of over 500 roads, the implementation of many of the most critical infrastructural priorities specified in the 2025 Transport Master Plan such as the Marsa Junction Project, the development of numerous maritime projects as well as a nationwide afforestation initiative with the planting of circa 30 new trees every day for the last two years.