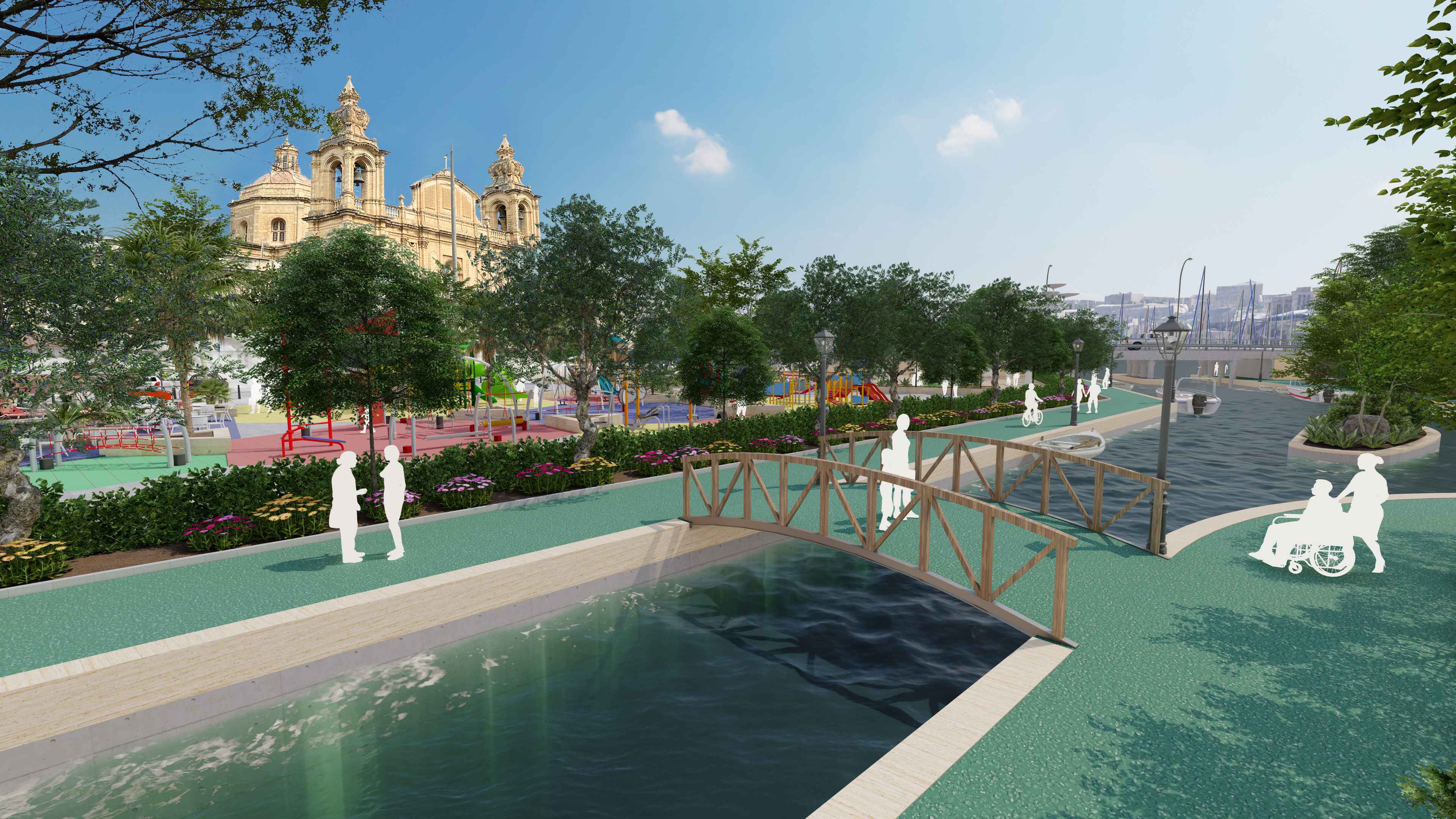 The Planning Authority approves Msida Creek Project
After years of consultations, discussions, studies, and planning, the Msida Creek project plans proposed by Infrastructure Malta have been approved by the Planning Authority today.
The project, which has undergone a redesign based on discussions and suggestions from our partners, will involve the construction of a new flyover. This flyover is intended to replace the existing traffic light junction and will incorporate facilities for alternative modes of travel, including cycling and walking. The project will also provide for a major upgrade and embellishment of the surrounding areas with new recreational zones. Infrastructure Malta proposed that 60% of the Msida Creek Project be dedicated to open public spaces, creating a more pleasant environment to the centre of this locality.
The new open spaces and recreational zones being created by this project, will include a new 2,200 metres squared piazza in front of the Parish Church and a seawater channel, the latter also forming part of a plan to prevent flooding. This 300-metre channel will be surrounded with pathways in a landscaped area designated for relaxation in a serene environment.
This project includes the redesign and reconstruction of the traffic lights junction connecting Triq il-Marina (to and from Sa Maison and Valletta), Triq il-Wied tal-Imsida and Triq Mikiel Anton Vassalli (to and from the Tal-Qroqq Skatepark roundabout) and the upgrading of a number of nearby junctions with other roads leading to and from Gżira, Sliema and Ta' Xbiex. The plans of the road design will eliminate traffic light waiting times and reduce travel times and accident risks along this arterial route, whilst improving air quality in this part of Msida and other nearby residential and recreational areas.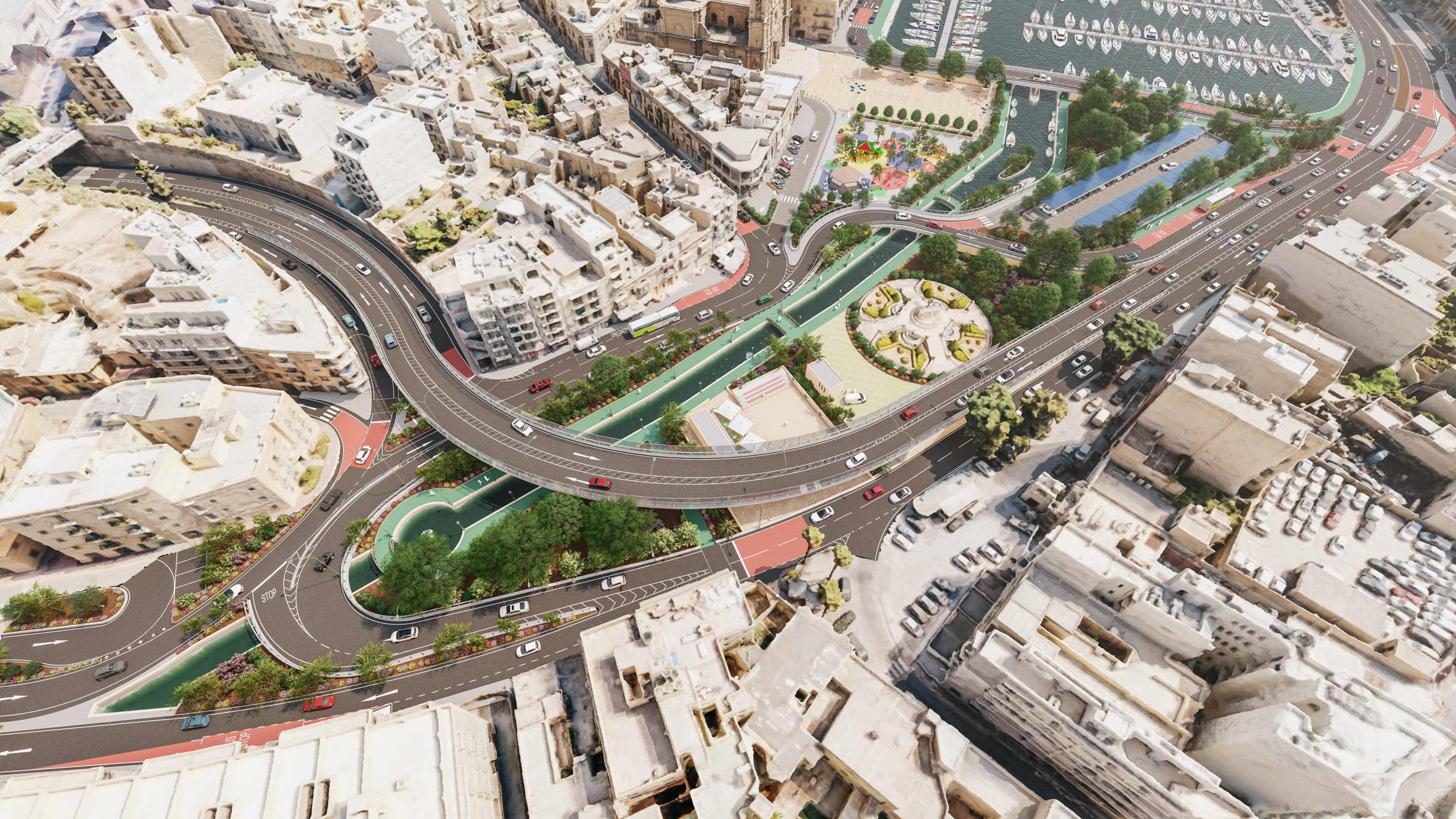 The road corridor extending from the Sa Maison area of Msida to the Tal-Qroqq Skatepark roundabout is one of the country's principle network nodes, connecting Valletta and the Grand Harbour region with the northern and southern regions of the island. Over 4,500 vehicles go through the Msida Creek traffic lights junction every hour to travel to and from Valletta and other nearby localities.
The new 200-metre long bidirectional flyover will directly link Triq il-Marina with Triq Mikiel Anton Vassalli, to reduce the impact of this through traffic on the nearby recreational and residential areas and promenades of Msida.
As part of this investment, Infrastructure Malta will also improve public transport connections along this route where the bus service is widely used. Wider pavements will also be built, along with a part of the new segregated cycling and walking track by the seafront, that eventually will connect Tal-Pietà with Ta' Xbiex and Triq il-Wied tal-Imsida. Pelican pedestrian crossings will be added for safe connections when travelling on foot or cyclists.
A new solar-covered parking lot with 115 spaces will also be developed. The landscaped zone and public garden will cover a total area 5,500 metres squared.
The project plans include a comprehensive underground stormwater system to alleviate the area's flooding problem that has been dragging on for decades.
Also, the Msida Creek Project tender is the first major road infrastructure project that includes a comprehensive 10-year operations and maintenance period on it.
The upgrading of this important network node forms part of Infrastructure Malta's ongoing commitment to improve the quality, efficiency, safety and sustainability of Malta's land transport infrastructure, and to provide the necessary capacity to overcome existing challenges and meet future requirements.