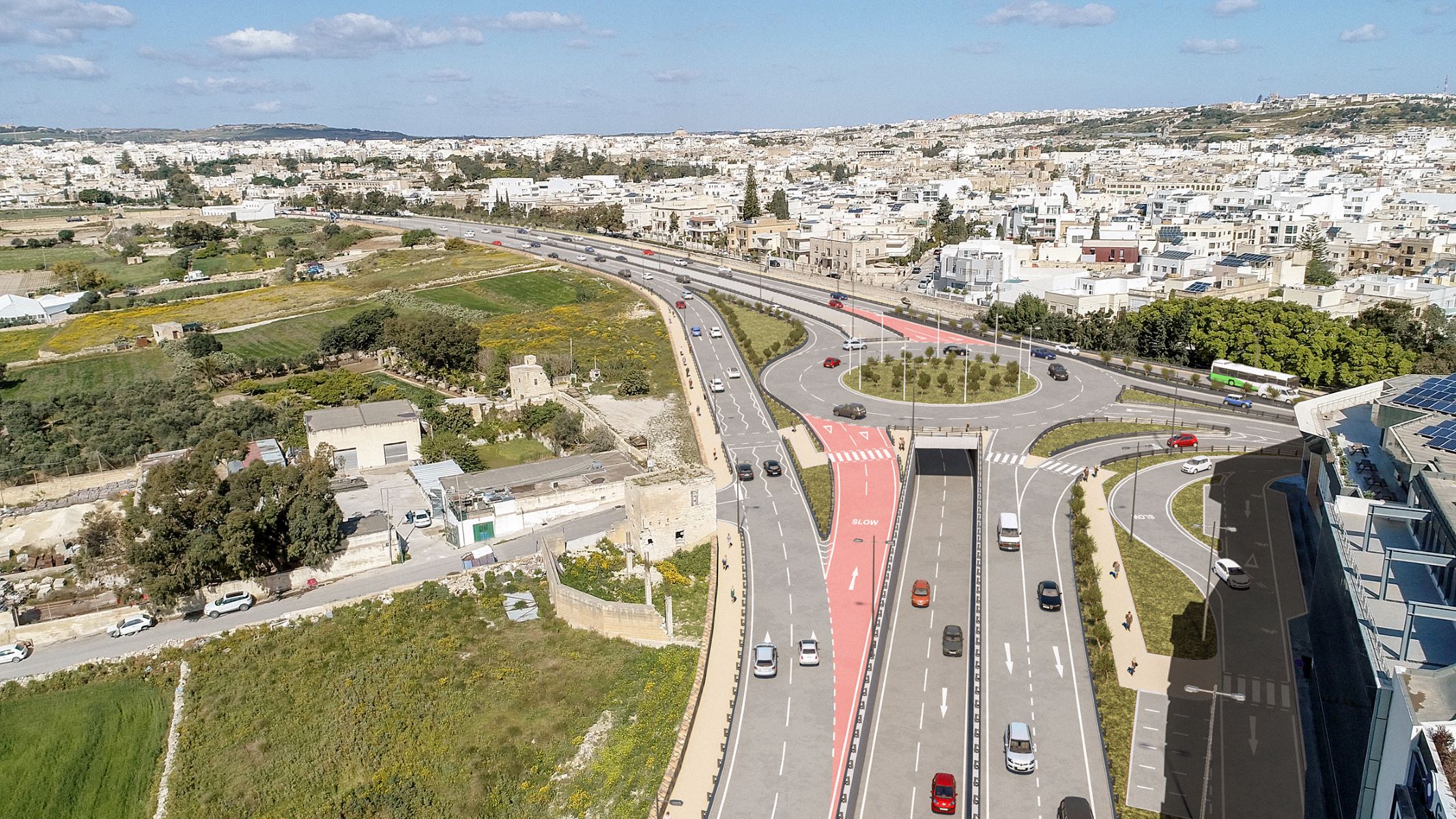 New Mriehel Roundabout Underpass
Infrastructure Malta is launching the construction of a new roundabout underpass connecting L-Imdina Road and the Mriehel Bypass, next to the Malta Financial Services Authority offices.
The two-lane 60-metre underpass will be located beneath the new roundabout that the same agency is building as part of the Central Link Project, to eliminate the traffic lights at this important junction between Balzan, Birkirkara and Mriehel. Through this new tunnel, the main eastbound traffic flows, from L-Imdina Road, Balzan towards the Mriehel Bypass (Royal Malta Artillery Avenue), will be grade-separated from the other flows converging at the new roundabout.
As part of the Central Link Project, Infrastructure Malta has already built two new roundabout bypass lanes to create an uninterrupted route in the opposite direction, westbound from the Bypass towards Balzan and Attard. By eliminating the principal eastbound and westbound flows from the roundabout, this junction is now becoming safer for road users travelling to other nearby destinations, including Mriehel, Birkirkara and Zebbug (from Attard, Balzan and Lija). By reducing its design speed and traffic volumes, the roundabout can now also incorporate safer pedestrian and cycling connections to Il-Hofor Road, a rural road leading to Zebbug and Qormi.
A few metres away, the Central Link Project is developing a 4.3-kilometre cycling and walking track linking Mriehel, Birkirkara, Balzan, Attard and Ta' Qali. Through the improved roundabout crossings made possible by the new underpass, pedestrians and cyclists will now have another safe route from this area to Zebbug and Qormi.
The Planning Authority Board unanimously approved the construction of the new underpass this week, following consultations with all stakeholders concerned.
In the meantime, Infrastructure Malta is also continuing the Central Link Project, which will be ready by the end of this year. Central Link Project is a €55 million investment to reduce travel times, accident risks and congestion pollution along the principal arterial road corridor in central Malta, whilst creating safer spaces for alternative modes of travel in this part of Mriehel, Birkirkara, Balzan, Attard and Ta' Qali.
The project will reconstruct 13 junctions, remove four traffic lights systems and add over seven kilometres of new lanes to halve travel times in this area and reduce congestion pollution in nearby neighbourhoods by up to 66%. Besides the new cycling and walking track, this investment is also introducing other facilities for alternative modes of travel, such as 10 kilometres of safe pedestrian footpaths, segregated crossings and bus lay-bys. Infrastructure Malta is also developing over 24,000 square metres of new landscaped areas along the project route.
Infrastructure Malta completed the first phase of this project, including a two-lane westbound carriageway bypassing three traffic light junctions to create a quicker and safer route from Mriehel to the Wied Incita area of Attard, last September. Its contractors are now working on the reconstruction of several other arterial roads in the same area, including L-Imdina Road, between Ta' Qali, Attard and Balzan, Iz-Zaghfran Road, In-Nutar Zarb Road and Valletta Road. This week, workers also finished the rebuilding of other adjacent residential roads, including Oliver Agius Street, Hannibal Street, Ferdinandu Inglott Street and part of Haz-Zebbug Road.