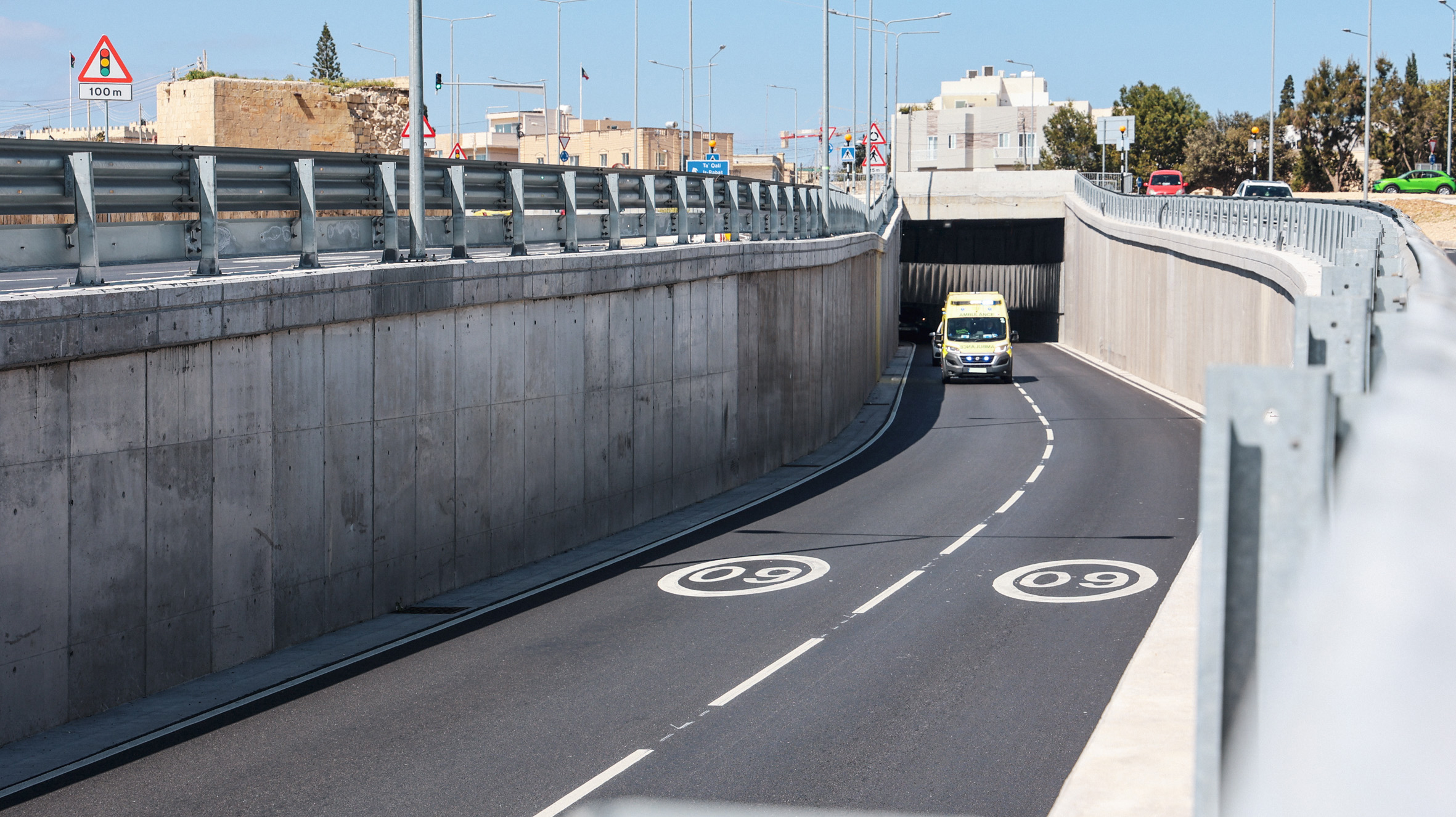 Infrastructure Malta completes the Mriehel Underpass Project
Infrastructure Malta completed the Mriehel Underpass Project, creating a direct route from L-Imdina Road to the Mriehel Bypass, next to the Malta Financial Services Authority offices.
The two-lane 60-metre underpass is located beneath the new roundabout, eliminating the traffic lights at this important junction between Balzan, Birkirkara and Mriehel. Through this new tunnel, the main eastbound traffic flows from L-Imdina Road, Balzan, towards the Mriehel Bypass (Royal Malta Artillery Avenue) and is grade-separated from the other flows converging at the newly built roundabout.
Infrastructure Mala built this cut-and-cover underpass using more than 290 precast concrete panels to form its tunnel walls. The agency lifed in place the concrete beams that support the ceiling slab of the new Mriehel Underpass, covered with the new roundabout and its approaching lanes, pedestrian and cycling crossings.
The agency opened the tunnel in early October 2022, creating an uninterrupted link between L-Imdina Road, Balzan and Mriehel Bypass. Infrastructure Malta planned the Mriehel Underpass Project to augment the positive impacts of the Central Link Project in Attard, Balzan, Birkirkara and Mriehel.
As it reduces traffic volumes, the Mriehel Underpass Project enabled the introduction of safer pedestrian and cycling crossing to link Birkirkara, Mriehel and Balzan with Il-Hofor Road, a rural road leading to Zebbug and Qormi.
These roundabout crossings will further improve the connections of the four-kilometre cycling and walking infrastructure developed through the Central Link Project in Ta' Qali, Attard and Balzan.
As part of the Central Link Project, Infrastructure Malta built two new lanes to create an uninterrupted route in the opposite direction, westbound from the Bypass towards Balzan and Attard.
By eliminating the principal eastbound (through the new tunnel) and westbound flows from the new roundabout, it has become quicker and safer for road users travelling to other nearby destinations, including Mriehel, Birkirkara and Zebbug (from Attard, Balzan and Lija).
In the meantime, Infrastructure Malta is also implementing a project upgrade in the southbound carriageway of the Mriehel Bypass and upgrading the existing junction leading to the Mriehel Industrial Estate.