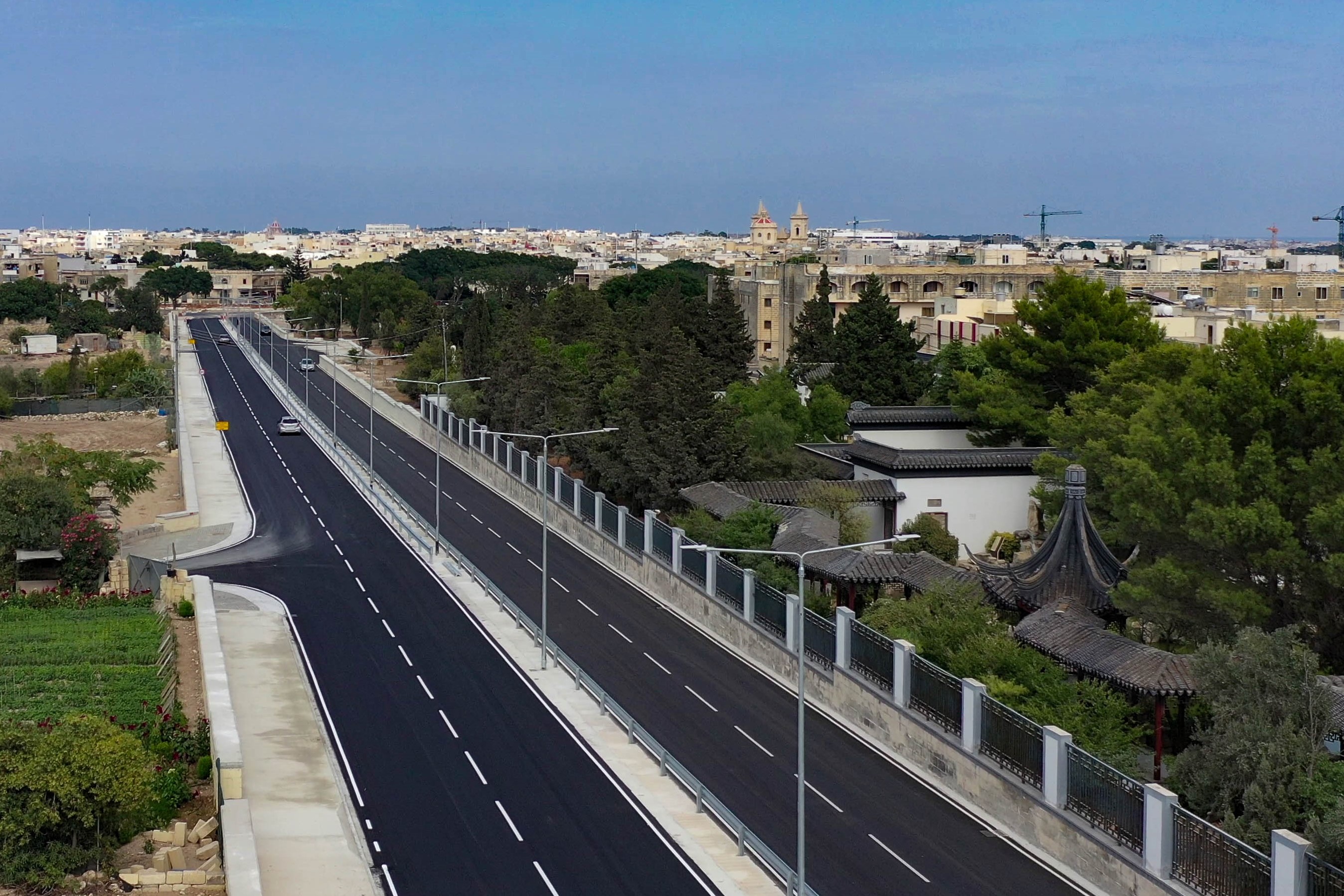 Infrastructure Malta completes Luqa Road upgrade
Infrastructure Malta completed the €2 million reconstruction of Luqa Road, between Santa Lucija and Luqa, introducing a cycling and walking track and other improvements for increased road safety.

Besides the new infrastructure for alternative modes of travel, this project also included the rebuilding of the road's dual carriageway and the upgrading of its junctions, with new roundabout approach lanes and improved access to and from Santa Lucija.

This one-kilometre road now has two new bus stops with safer bus lay bys to facilitate public transport access to Santa Lucija residents. Infrastructure Malta also added pelican pedestrian crossings for safe connections between these bus stops, as well as the new cycling and walking track along the same road. The project contractors installed an LED street lighting system and new central reservation crash barriers. The T-junctions connecting this road to Santa Lucija were rebuilt in an improved design to reduce accident risks.

Before building new road foundations, Infrastructure Malta laid a new underground potable water pipeline and several Internet and telecommunications cable ducts, to improve the quality of these services to families and businesses in nearby localities. Infrastructure Malta also introduced a 1.8 kilometre rainwater catchment system.

The agency's project team coordinated the Luqa Road works in conjunction with other ongoing infrastructural investments in nearby arterial roads, including the construction of the seven flyovers of the Marsa Junction Project and the reconstruction of Qormi Road and San Tumas Road, between Luqa and Qormi. A few weeks ago, Infrastructure Malta also started the Santa Lucija Underpass Project, which will see the roundabout at the southern end of Luqa Road upgraded to a multi-level intersection with a twin tube underpass connecting Santa Lucija Avenue with Tal-Barrani Road.

As part of the Santa Lucija Underpass Project, the new cycling and walking track at Luqa Road will soon be extended by over one kilometre along the northbound carriageway of Santa Lucija Avenue (Addolorata Hill), towards Marsa. At Marsa, this track will be connected to other cycle lanes and footpaths that the agency is building around the Marsa Junction Project flyovers. This will provide a safe walking and cycling route connecting Paola, Tarxien, Santa Lucija and the Marsa Sports Grounds area.

In the coming weeks, Infrastructure Malta is planting 175 olive and bay laurel trees along the sides of this road. This initiative forms part of an Infrastructure Malta €1 million investment to plant over 6,700 trees in 44 different locations by the end of 2019.