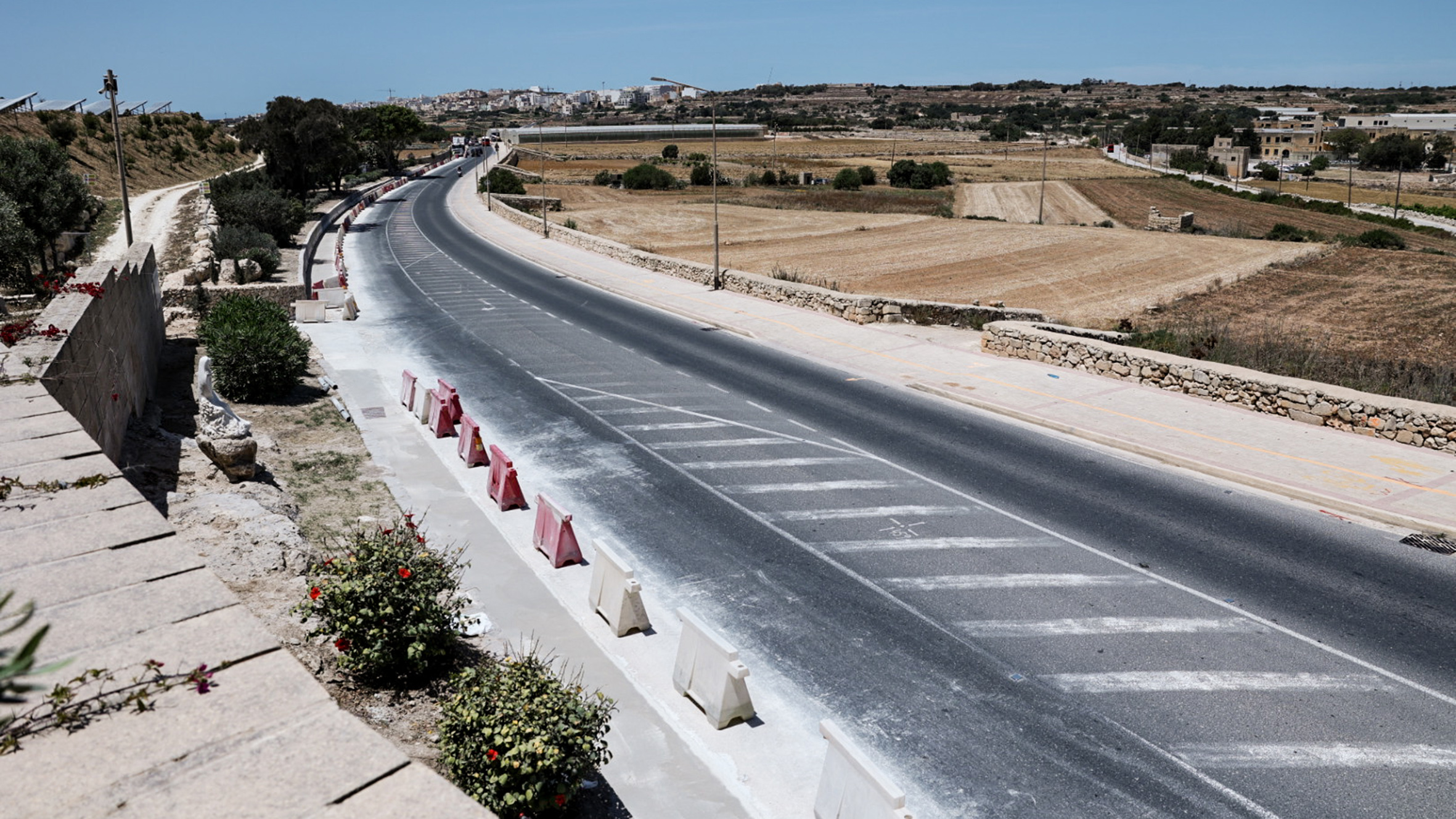 Imgarr Road safety upgrade in progress
Infrastructure Malta is launching a major safety upgrade of L-Imgarr Road, the main link between Mosta and Mgarr and one of the principal routes to north Malta.
This three-kilometre road (also known as Sir Temi Zammit Road) is currently composed of a two-lane single carriageway and a wide, brick-paved footpath for pedestrians and cyclists on one side. With no form of protection against cross-median collisions and with little measures to curb speeding, this road has become a critical accident black spot. Unfortunately, the road has seen several fatal accidents recent years. Meanwhile, the wide footpath is not considered to be an adequate path for cyclists and pedestrians since it is constantly interrupted with depressions for access to adjacent properties.
Following appeals from road users, paramedics and the Mgarr Local Council, Infrastructure Malta is launching a major safety upgrade of this road, similar to the recent upgrade of Burmarrad Road, between Mosta and Burmarrad. The agency intends to transform the road into a dual carriageway route, with one lane in each direction separated by crash barriers or bollards. The agency will also introduce other safety measures, including pedestrian crossings and high friction anti-skid surface treatments.
This upgrade will reduce the risks of cross-median collisions, whilst discouraging speeding. The two carriageways will still be wide enough to allow emergency vehicles to overtake stationary vehicles in case of need.

The L-Imgarr Road safety upgrade will also incorporate the rebuilding of a safe footpath on one side, new pedestrian crossings and two uninterrupted cycle lanes, one in each direction. Following discussions with the administration of two nearby schools, Infrastructure Malta is also building a new roundabout at the T-junction with the road to L-Imselliet, facilitating safer access to these educational institutions.
During the planning stage of this project, Infrastructure Malta consulted the Mgarr Local Council and the Mosta Local Council. The two councils are supporting the planned measures to reduce the serious consequences of accidents in this road.
Safer crash barriers
Infrastructure Malta will be separating the two carriageways with concrete crash barriers that are specifically designed to prevent rollover and break through accidents, reducing the risks of serious injuries. This type of CE-certified vehicle restraint system was used in Malta for the first time in Infrastructure Malta projects completed in 2019. They have since helped to reduce the consequences of collisions along roads such as Tal-Balal Road and Regional Road, as happened in other countries in recent decades.
This kind of vehicle restraint system, which is widely used in many European motorways, including the UK's M1 and M6, is crash-tested and certified to safely contain the impact of a 13-tonne bus travelling at speeds of up to 70 km/h. A video of some of these tests can be viewed here.
The six-metre, 3.4 tonne barriers are cast under licence from the internationally-acclaimed safety barriers company Deltabloc International GmbH. Vehicle restraint system auditors from the international certification body TÜV inspected the local manufacturing process and the units produced, before confirming its CE-certification in line with the European vehicle restraint system safety standard EN1317.
The precast concrete crash barriers have a special anti-flip profile that redirects vehicles back onto the carriageway, to drastically reduce the risk of roll-over upon impact. They also have a high containment level with low deflection (side movement) to prevent cross-median accidents. Notwithstanding their rigidity, the barriers help contain drivers' and passengers' head acceleration on impact to a safe level, reducing potential severe neck injuries.
Since they have no sharp edges, these concrete barriers are also safer for motorcyclists. Studies have shown that this type of vehicle restraint system reduces the likelihood of severe injuries to helmeted riders involved in motorcycle-barrier collisions.