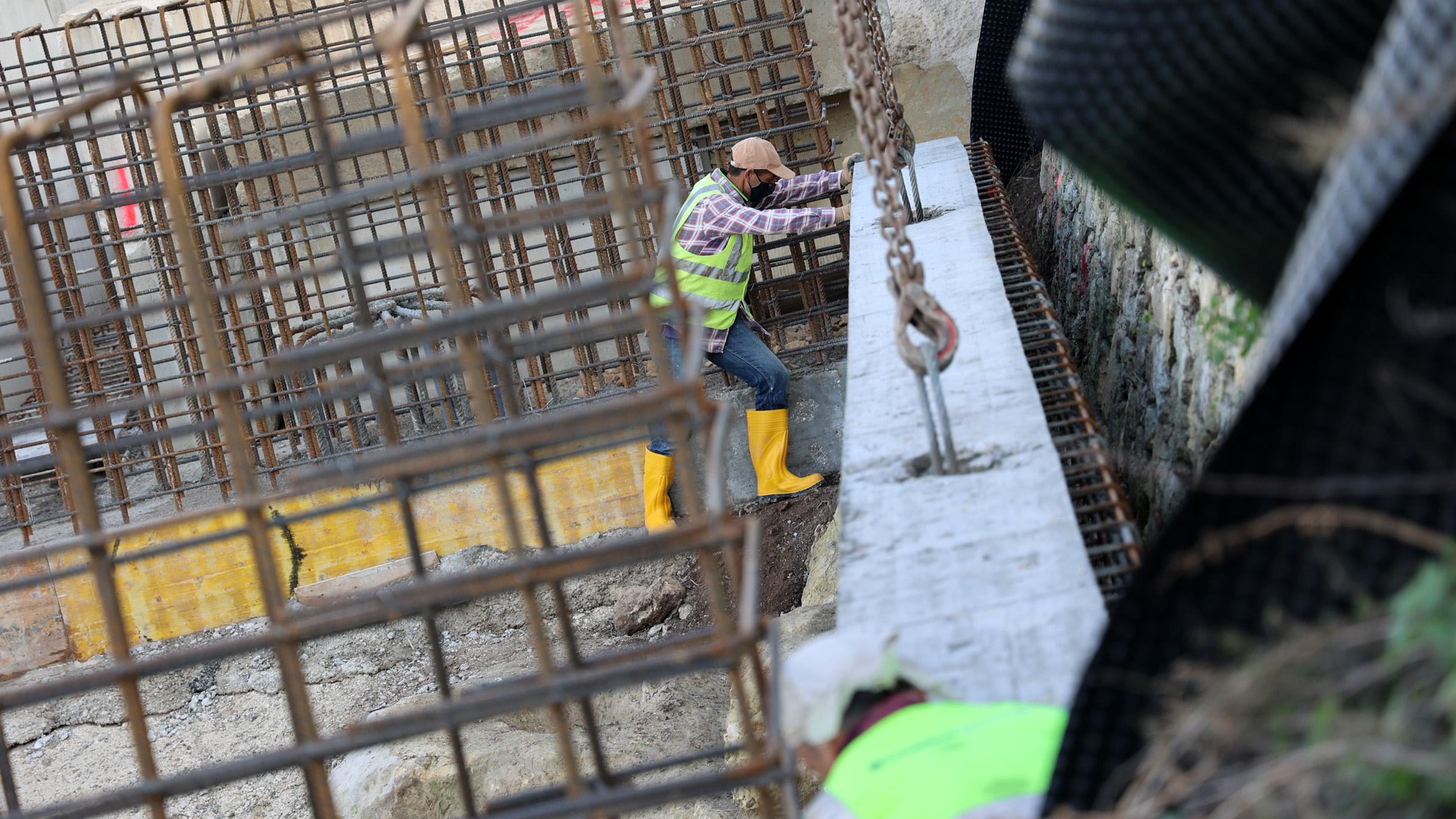 Foundation structures of Gheriexem Belvedere almost ready
Infrastructure Malta is completing the complex foundation structures that will support the reconstruction of Rabat's scenic Gheriexem Road with a new belvedere, whilst stopping decades of subsidence damage to its structure and to nearby buildings.
The Gheriexem Belvedere Project is a €4 million infrastructural investment to rebuild this road on stronger foundations, in an improved alignment incorporating a new belvedere with safer footpaths, benches overlooking the Gheriexem Valley and landscaped areas with many new trees.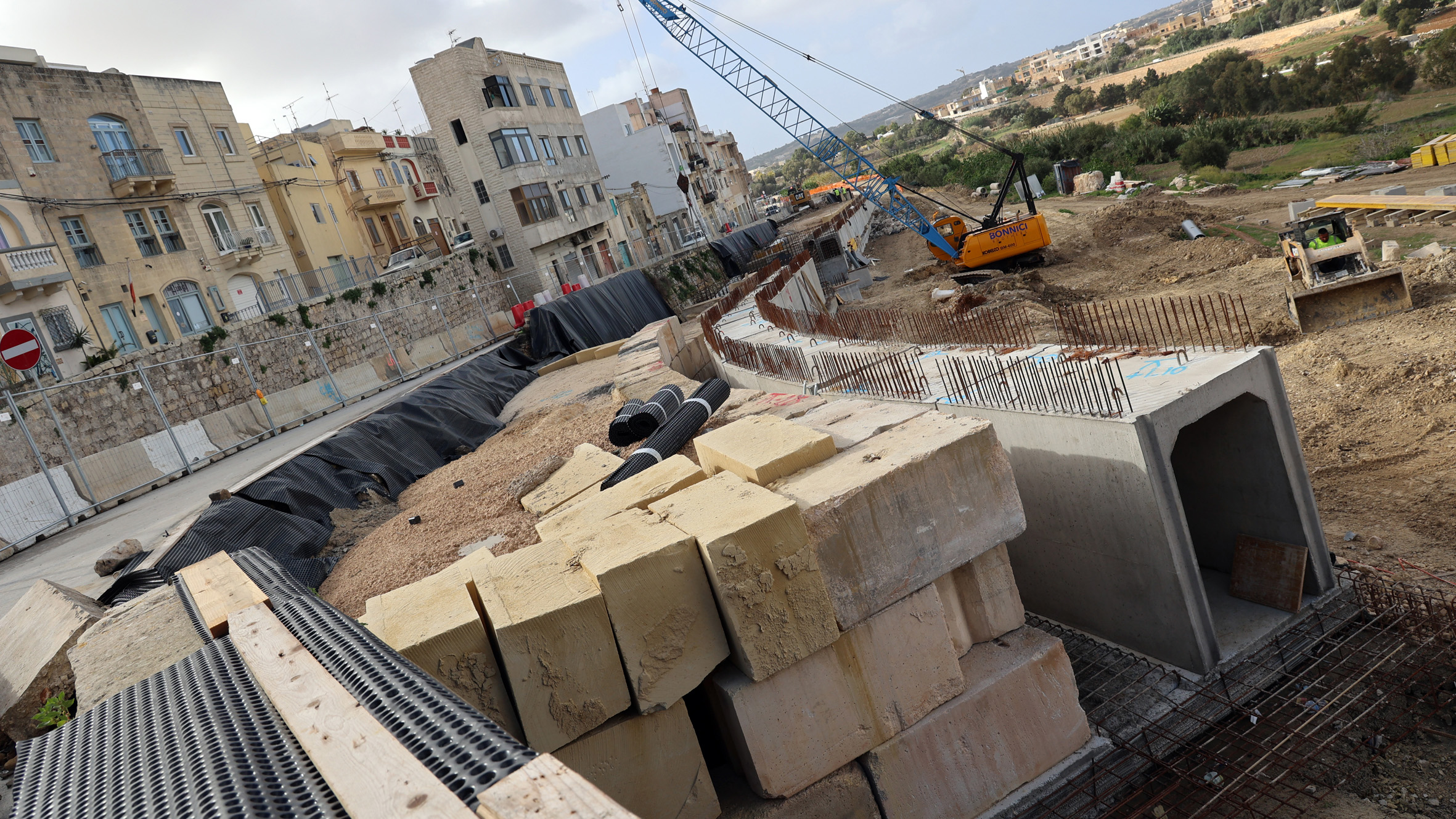 The new road's substructure is based on two rows of steel-reinforced concrete piles inserted 15 metres (5 storeys) deep into the ground. Over 100 piles, ranging between 0.7 and one metre wide, will support the new road foundations and the belvedere. Most of these piles are ready and the remaining ones will be drilled and cast within the next few weeks.
The project contractors bridged the piles that are already in place with a long concrete capping beam. On top of this platform, workers are now using more than 6,000 large limestone blocks and tonnes of concrete to build a seven-metre thick retaining wall abutting the weak rubble wall built on clay which supported the existing road until it started to gradually give way in recent years.
Within the new retaining structure, Infrastructure Malta is also forming a walk-through culvert for new high voltage electricity cables that will improve the area's electricity grid. It is using 260 precast U-shaped elements to form this 600-metre tunnel. These electricity cable walk-through culverts will reduce the need to dig up the new road for future repairs or upgrades. The project also includes a new sewer, new stormwater catchments as well as potable water pipelines and ducts for improved internet and other telecommunication networks.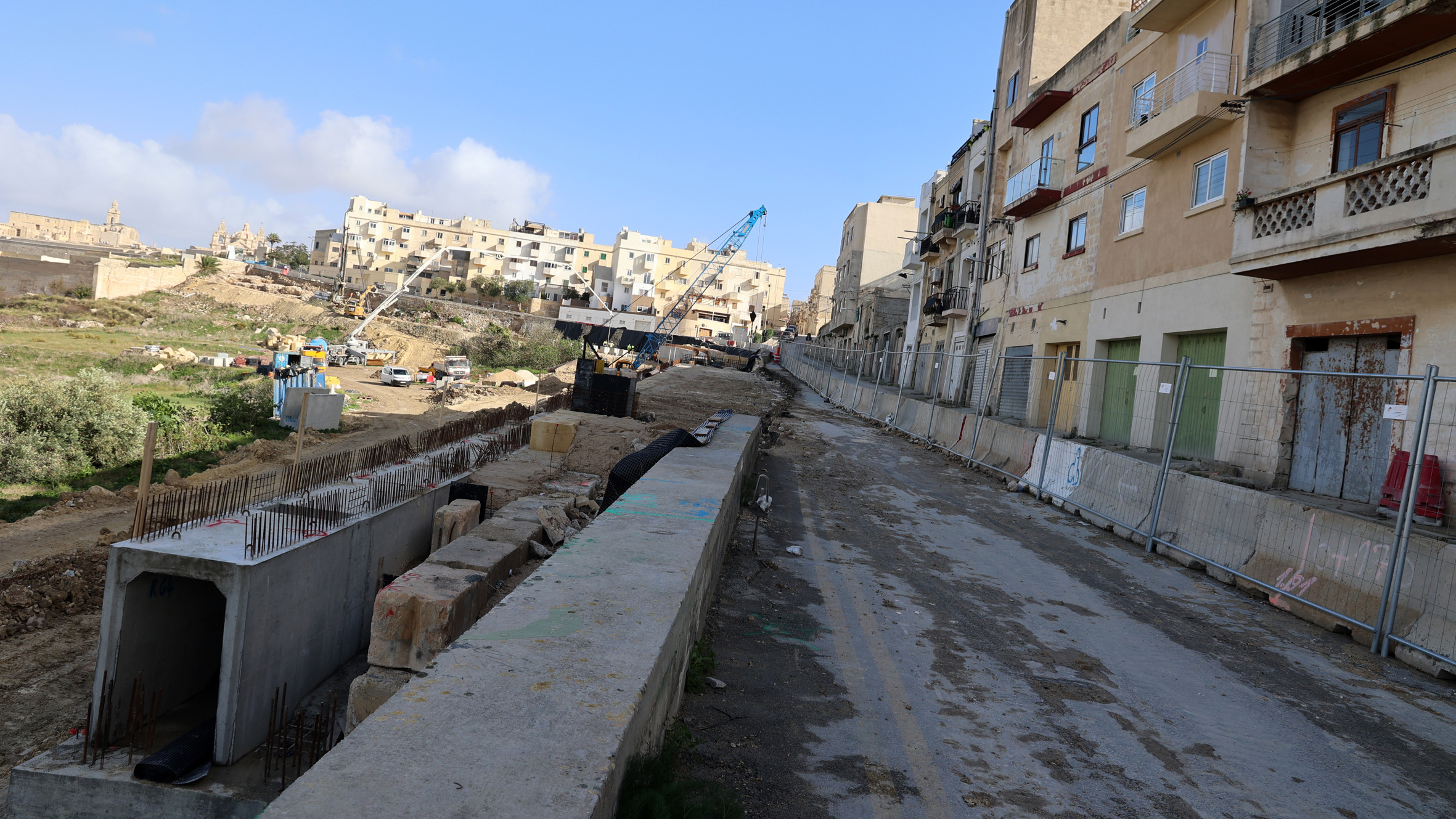 The Gheriexem Belvedere Project was launched four months ago with extensive archaeological excavations in the strip of land along the road's existing retaining wall, where the new road's substructure is now nearing completion. In some areas, buried remains of potential archaeological significance were uncovered during these excavations. The Superintendence of Cultural Heritage and Infrastructure Malta modified parts of the project plans to keep these newly-discovered remains visible and accessible for future studies. The project contractors also cleaned the site from decades of illegally dumped waste, to make way for the piling works.
The plans of this project were prepared by the Ministry for Transport, Infrastructure and Capital Projects' Works and Infrastructure Department. It designed the structure of the new foundations and the belvedere in consultation with environmental and archaeological authorities to minimise adverse impacts on adjacent fields.
For many years, residents in this area have been calling on the authorities to stop the gradual sinking of this road along the side of Gheriexem Valley, which is causing extensive damages to their residences, some of which are in danger of collapsing. Geotechnical investigations on site confirmed that this 800-metre road was built on layers of weak, fractured rock and clay. Its old retaining wall is cracked and irregularly distorted, showing that it is being pushed outwards by the movement of the unstable infill materials beneath the road.
Infrastructure Malta is working to complete this project as soon as possible, to ensure the safety of road users and the area's residents.