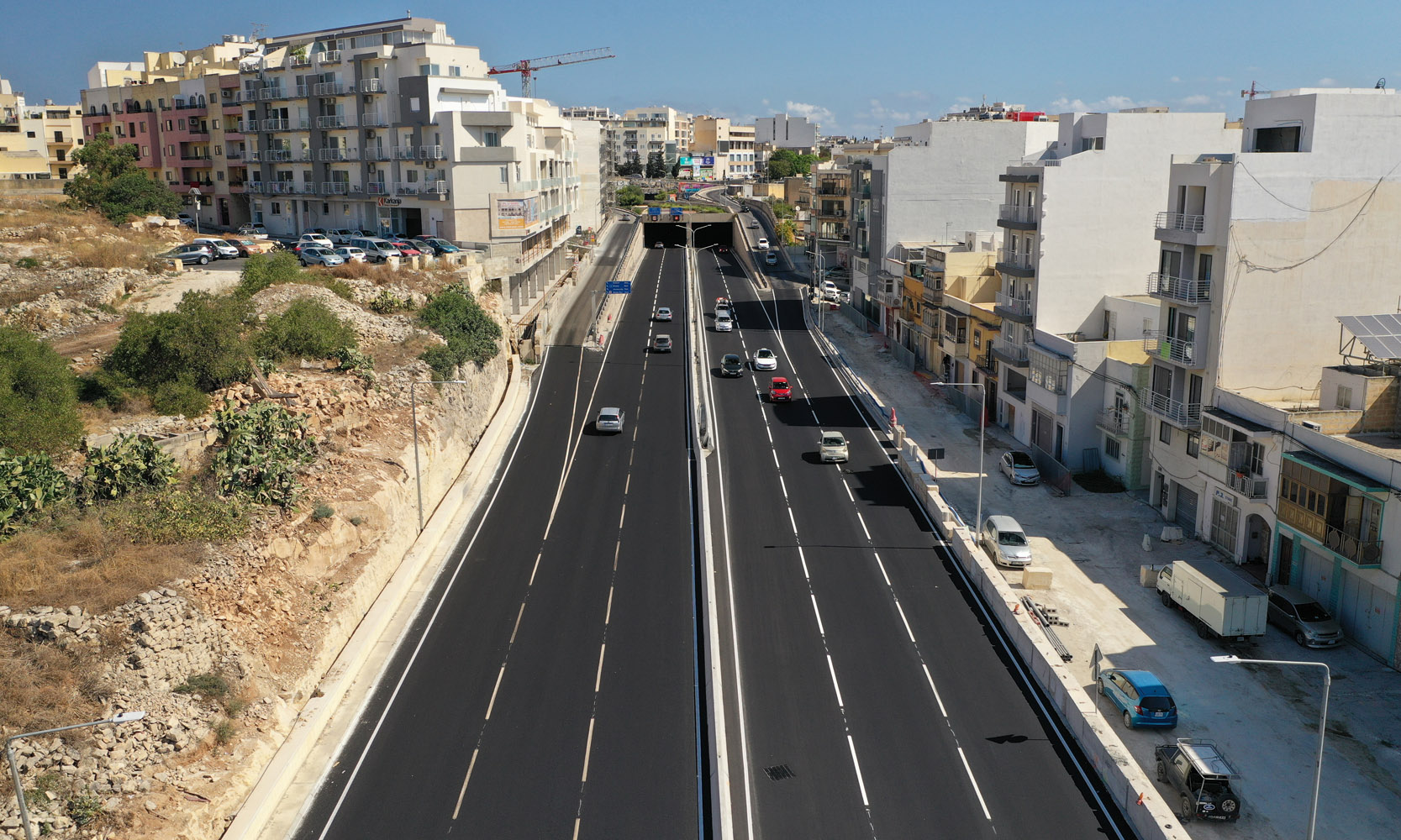 €64 million for arterial roads in 2019
Infrastructure Malta is investing €64 million in over 14 projects to improve the safety, efficiency and sustainability of Malta's arterial road network in 2019.
Through these projects, Infrastructure Malta is increasing road safety, reducing travel times, cutting noise and air pollution and increasing long-term sustainability by introducing safer facilities for alternative modes of travel. This multi-million annual investment, which will continue in the coming years, is upgrading the quality of the country's main land transport routes used by thousands of commuters every day.
Many of these projects, such as the reconstruction of Tal-Balal Road, Luqa Road and Buqana Road, are ready or nearing completion. Others, including the new pedestrian bridges at Blata l-Bajda and Aviation Avenue, Luqa, the reconstruction of Qormi Road, Luqa and the Marsa Junction Project, will be completed in the coming months, or next year. Infrastructure Malta is implementing this major upgrade of the arterial road network in parallel with its seven-year project to rebuild residential roads and other projects to improve rural roads, to develop new open spaces and to upgrade the country's maritime infrastructure.
Road safety – the primary objective
The primary objective of the arterial roads investment is to increase road safety and reduce the consequences and costs of traffic accidents. Along the principal north-south TEN-T Network route of Malta, last summer Infrastructure Malta completed a major upgrade of Regional Road. For the first time in Malta, along this road's central reservation, the agency installed an improved vehicle restraint system certified to reduce roll-over, cross-median collisions and related severe injury risks.
It also added new lanes and improved seven of this road's junctions to further reduce accident risks when exiting or entering this road to and from other nearby arterial roads and locations, including the University of Malta and Mater Dei Hospital. This upgrade is augmenting safety in what was previously a major accident black spot, with an average of one collision a week, 40% of which causing severe injuries.
Infrastructure Malta will soon start the refurbishment of three road tunnels along the same north-south route, and of the Kirkop Tunnels, to install adequate lighting and other support and emergency systems. In Naxxar's Labour Avenue, Infrastructure Malta recently completed the construction of a new roundabout junction to improve the safety of this road's connection with several nearby Naxxar residential streets, and to develop new pedestrian crossings for the area's residents and workers. A similar roundabout project to reduce collision risks at the junction between the Coast Road, St Andrew's Road and residential roads in Pembroke and High Ridge (Madliena), will start soon.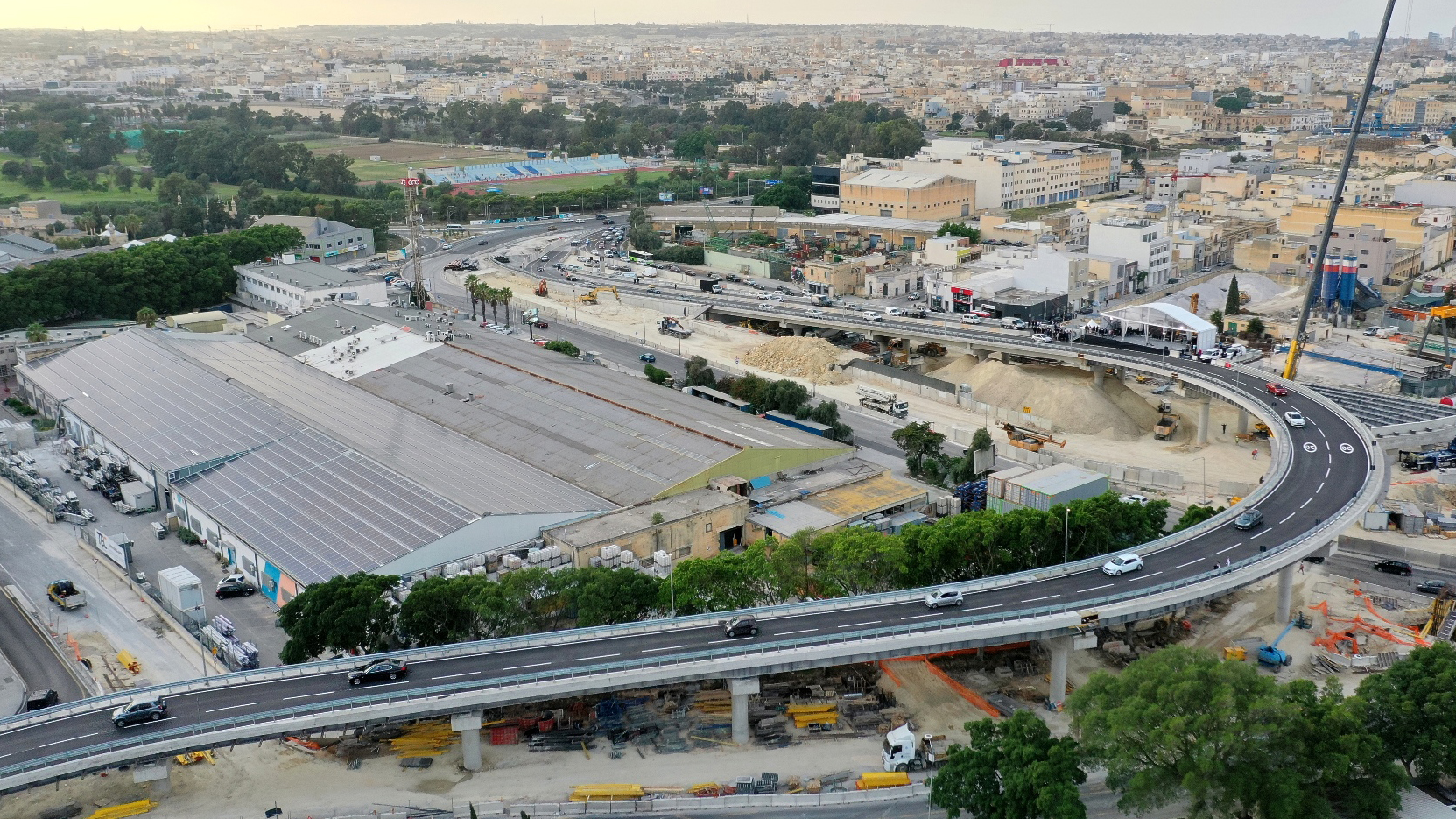 Reducing travel times
Through projects such as the upgrading of Qormi Road, Qormi (near Maltapost offices), the ongoing construction of the Marsa Junction Project's seven flyovers and the recently-completed Tal-Balal Road Project, Infrastructure Malta is also increasing the efficiency of important road corridors between different parts of Malta by reducing congestion and cutting travel times. These projects are increasing these roads' capacity to meet current and future requirements, by adding new lanes and bypass lanes, by eliminating bottlenecks and by optimising the design of junctions.
Infrastructure Malta is also building the Santa Lucija roundabout underpass, which will drastically decrease journey times to and from the south of Malta along the Santa Lucija Avenue and Tal-Barrani Road route. It is also giving residents of Santa Lucija, Paola and Tarxien a quicker and safer access to their hometowns. At Santa Lucija, Infrastructure Malta concluded the reconstruction of Luqa Road and its junctions, to continue reducing travel times between Marsa, Luqa, Santa Lucija and Paola.
Cutting traffic pollution
By reducing congestion and eliminating bottlenecks, Infrastructure Malta is also cutting traffic noise and air pollution, improving the environment of nearby communities. The Marsa Junction Project will lead to air quality improvements in nearby residential communities, including parts of Marsa, Corradino, Paola and Luqa. By improving traffic flows along Tal-Balal Road, the main connection between Naxxar, Gharghur and San Gwann, the agency decreased congestion and resulting noise and emissions in several nearby residential roads as well.
In the meantime, as part of a separate project to plant over 6,700 new trees in Malta, Infrastructure Malta has already planted hundreds of trees along different arterial roads, such as Aldo Moro Road, Luqa Road, the Coast Road, Buqana Road and the Birkirkara Bypass. Many other trees will be planted in the coming months in existing roadside landscaped and green areas. The agency is also working on the development of new landscaped areas with hundreds of new trees in other localities, to continue contributing to the country's urban greening efforts.

Safer spaces for alternative modes of travel
A substantial amount of this year's arterial road investment is being allocated for the introduction of safer spaces for road users who opt for alternative, more sustainable modes of travel, including public transport, walking and cycling. Infrastructure Malta is currently building two new pedestrian and cycling bridges at Aviation Avenue, Luqa and San Gorg Preca Road, Blata l-Bajda. These new segregated arterial road crossings will create comfortable and quicker connections for pedestrians, cyclists, and for public transport commuters using the nearby bus stops.
Earlier this year, in L-Ahhar Hbit mit-Torok Road (known as "Tac-Cawsli"), the agency opened Malta's first segregated bi-directional cycle track between Zejtun and Zabbar. Infrastructure Malta's contractors are currently building a similar segregated cycling track in Qormi Road and St Thomas Road, connecting Luqa, Hal Farrug and Qormi. Another new 1.8 kilometre cycle lane will be opened in the coming weeks as part of the Buqana Road Project, which is also nearing completion.
The ongoing Marsa Junction Project is also introducing new cycle lanes, pedestrian bridges and footpaths connecting Paola, Santa Lucija, Tarxien and Marsa. It also includes bus lanes and a new 380-space park and ride area to encourage increased use of public transport.
Infrastructure Malta is committed to maintain this extensive capital investment for better quality land transport infrastructure, to ensure that it can adequately and sustainably support current and future social and economic development.