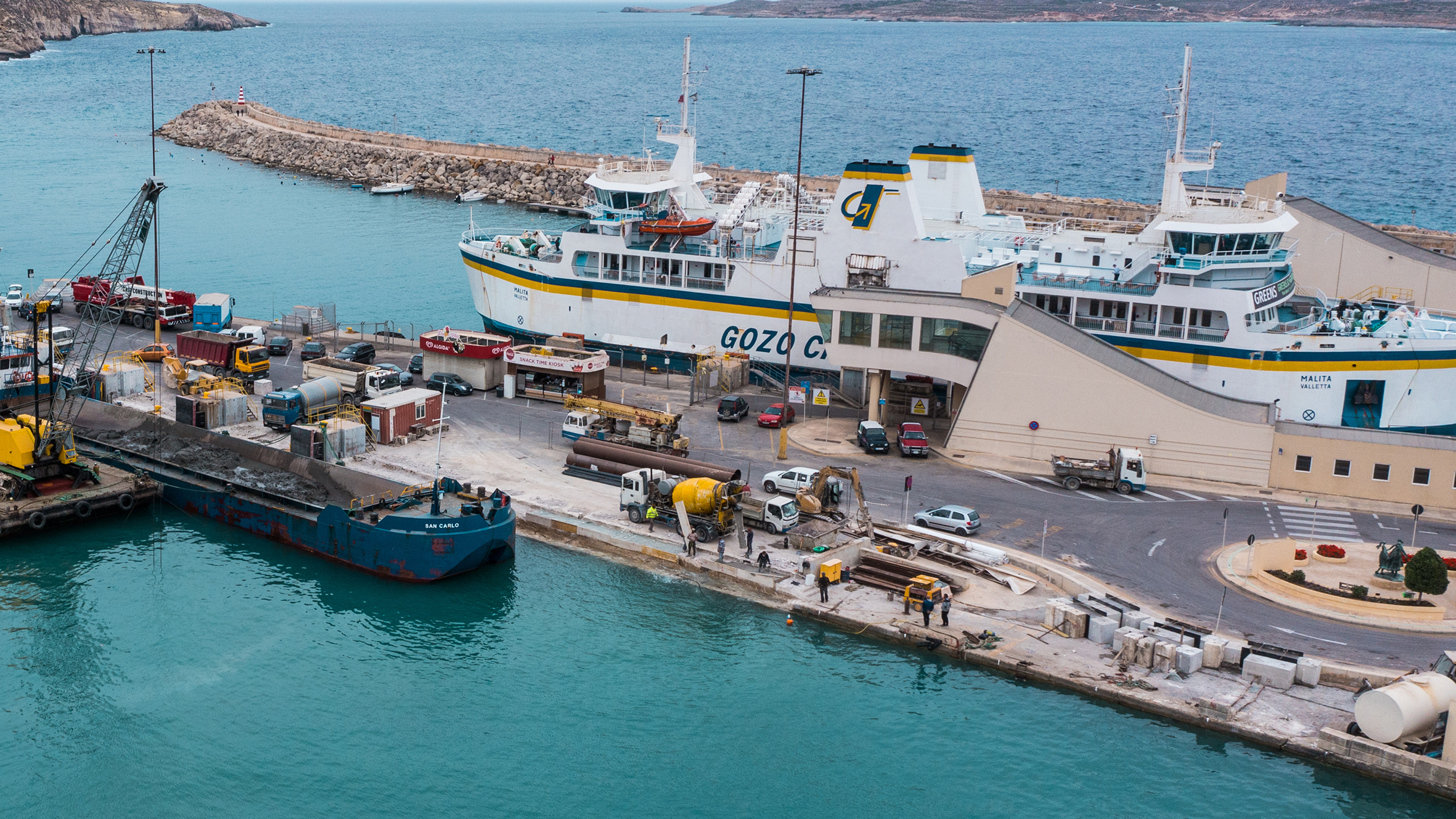 Final works of Gozo to Valletta fast ferry terminals
Infrastructure Malta is entering the final stages of a €2.5 million project to build new terminals for the new Gozo-Valletta fast ferry service starting next month.
Earlier this year, Infrastructure Malta was commissioned by Transport Malta to develop the fast ferry landing sites and related passenger facilities at Mgarr, Harbour and at Barriera Wharf, in the Grand Harbour. Works at the two ports started immediately with the drilling of cores for the embedding of concrete piles up to seven storeys into the ground. These piles are reinforcing the two landing areas, to support the ferries' mooring loads and to upgrade them with new quay structures and fenders that will facilitate the provision of this alternative mode of travel between the two islands.
The two new ferry landing sites will also have ticketing booths, a marshalling zone as well as sheltered waiting areas and public toilets for passengers. Emergency equipment to ensure passengers' safety will also be installed.
The construction of the new quay structures and buildings at the two locations is now almost ready, and finishing works, including mechanical and electrical installations, are in progress. Workers are also erecting steel railings around the marshalling areas, for increased security.
As part of this project, Infrastructure Malta is upgrading part of the road, roundabout and tunnel next to Barriera Wharf, to create a safe pedestrian route between the new ferry landing site and the Upper Barrakka Lift, which will take passengers to the centre of Valletta.
At Mgarr Harbour, the agency is also carrying out underwater repairs to the existing quay structure, which is also used by the ferries operating the existing Ro-Ro ferry services to Cirkewwa, and for other maritime operations. Recent studies of these structures, which date back decades, identified several underwater damages which needed to be repaired along with parts of the quay's cope beam.
The agency is working to complete most works of this project in the coming days, so that the new fast ferry service being coordinated by Transport Malta can commence next month, as planned.
In the meantime, Infrastructure Malta is currently also implementing another €5 million project to build new ferry landing sites and passenger facilities in Sliema and Cospicua, encouraging more commuters to choose these harbours' public transport ferries when travelling between Cottonera, Valletta and Sliema.